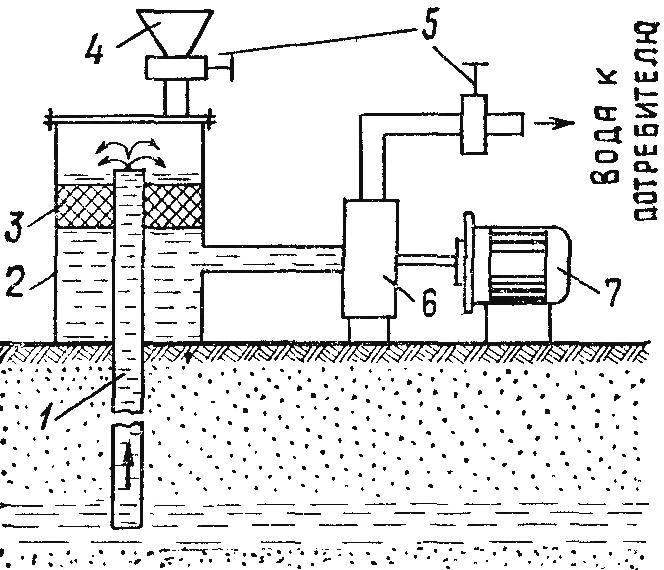 When using groundwater into the well usually clog a pipe with valve and filter, the latter often out of order. Repair need to get the whole structure. The problem of repair and operation of wells can be solved much easier if you use the following device. The basis of it — sealed the tank with the filter capacity of 35-40 litres and pump "Kama" with the engine of 1.6 kW.
The procedure works as follows: the filler neck the tank is filled with water and closed by a valve. The pump is activated. After a few seconds the water from the tank will be pumped and it will have a vacuum. Under vacuum the water from the well to again fill the tank. The filter will purify it from suspended particles and sand.
1 — pipe, 2 — tank, 3 — filter, 4 — tank of Gorlovka, 5 — valves, 6 — pump, 7 — electric motor.
The device used to lift water from a depth of 6 m. Pipes and valves can be used any.
V.

GALAKTIONOV, Blagoveshchensk
Recommend to read
A BOTTLE PEGS…
There are different ways to store and carry clothespins, each family. I think that deserves the attention of another. In a large plastic bottle from-under detergents or bleaches on the...
DRAWING MILL ON THE TABLE…
You never tried to bend metal sections "area" or "channel"? If you had, then you probably know how hard it is, especially if the profile is lengthy. Simple drawing mill, made by me,...