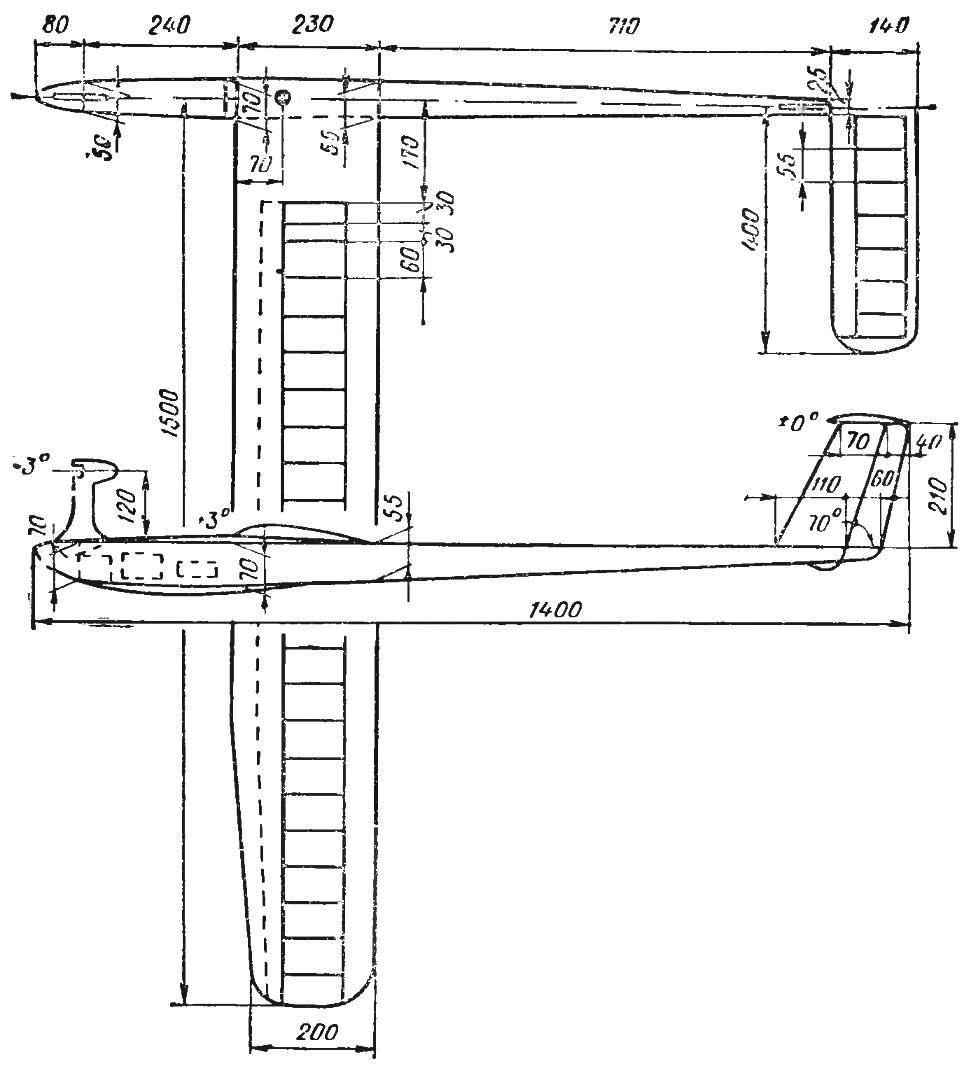 PROPOSED RC MODEL GLIDER WITH an ENGINE displacement of 2.5 CM3 model airplanes BUILT by the CZECH VLADIMIR BILY, IT MADE ABOUT 370 FLIGHTS (80 HOURS). THE MODEL IS EQUIPPED WITH DVUHKOMNATNAYA EQUIPMENT.
FEW words ABOUT the DESIGN model of
The fuselage is of rectangular section, is assembled from balsa plates reinforced by ribs. In the bow is a compartment for accommodation of the receiver, actuator and power sources. Bracket for motor mounting is made of plywood (10 mm thick) and glued to the bow section so that the axis of the motor is raised above the top plane of the fuselage 120 mm In the tail part of the fuselage glued the keel with the rudder. The stabilizer is rectangular in plan with rounded end ribs attached to the keel. Profile symmetrical (NASA 009). The wing has the Central angle of the "V" — 6°, length 3000 mm, chord — 230 mm, at the end of the 200 mm. Front and rear edges — wide, respectively, 35 and 50 mm balsa. Ribs — balsa placed at a distance of 60 mm from the Top wing to strengthen the pasted balsa veneer to a width of 70 mm. (the Installation angle of the wing is +3 degrees. Profile — Eppler "E-387".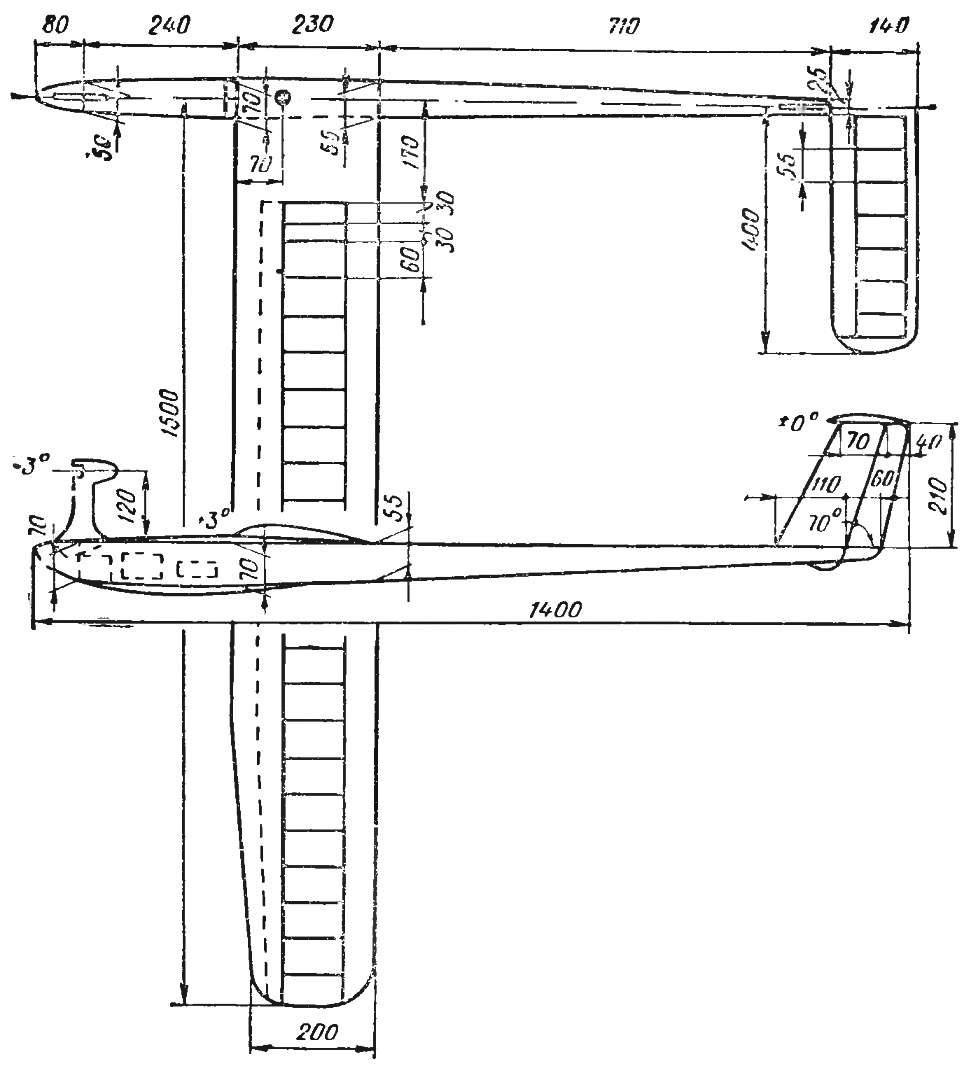 The center of gravity is located at a distance of 70 mm from the leading edge. Model flight plan is regulated by changing the installation angle of the stabilizer. Further adjustment of the flight is carried out by displacement of the axis engine.
APPLER "E-385 AND E-387"
Aerodynamicist from Germany Professor R. Eppler known for creating a series of profiles of the wings record for gliders: single and double. Recently, however, Eppler pays attention to the development aircraft modeling profiles. They all have contours, selected in such a way that in the sock of the wing remains laminar flow of flow.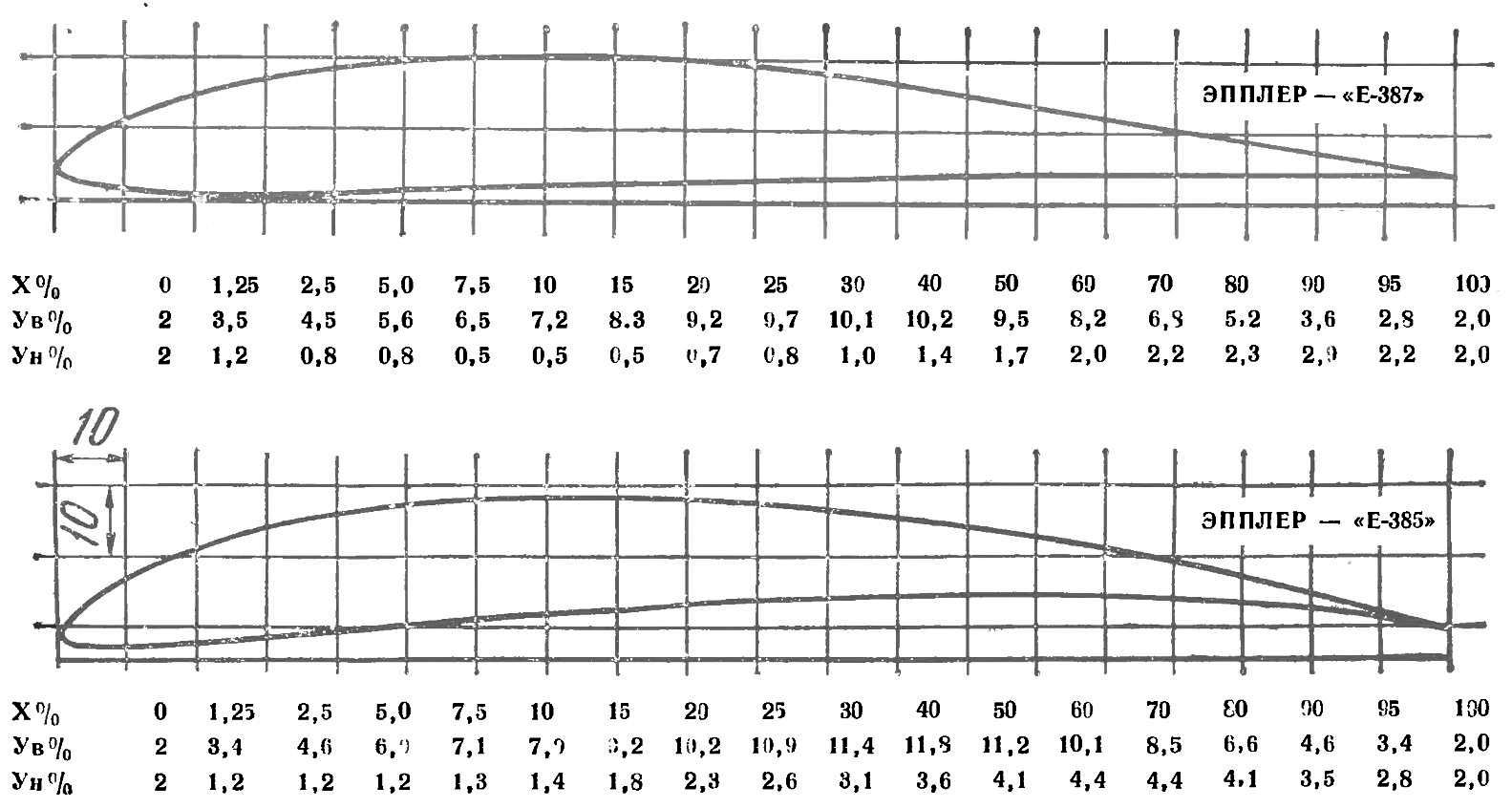 Profile "E-385" designed for glider models of a class "A-2". Profile "E-387" with great success used by modelers in Germany and in Switzerland for model gliders soaring over the slopes of the mountains. These models are usually equipped with either a magnetic machine of the course or radio.
Recommend to read
THE LAST "CLASSIC" AZLK
The family car "MOSKVICH-2140". The car "Moskvich" 2140 index was put into production in December 1975. Its direct predecessor is called the car "Moskvich-408", descended from the...
THE DRILL OF DRILLS
I'm probably not mistaken saying that the majority of home handymen's dream is to have a universal bormashenko. How many opportunities it opens! Engraving, abrasive machining of parts of...