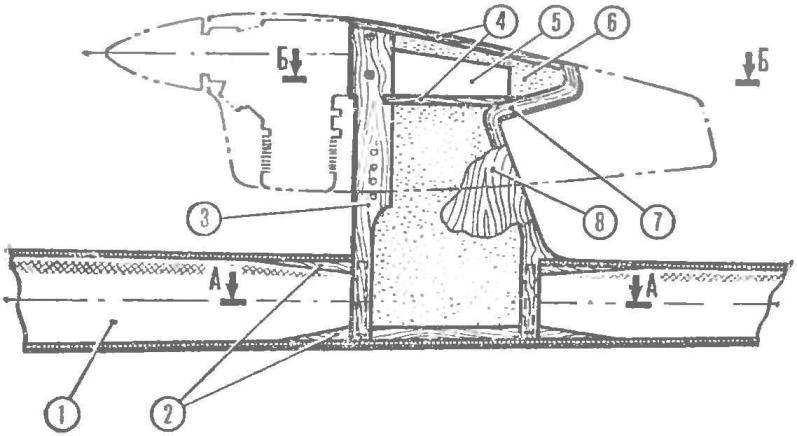 "Unsportsmanlike! It is helpful to build models, not to bring equipment adult athletes! Not to allow for competition!" These indignant exclamations addressed to our children when they first presented their new microglossary in on a meeting of young modelers. We were convinced opponents and judges that the lightest devices built by the hands of boys, and not only built, but also well-designed by our sportsmen-beginners. Talked about how it was created, the new design scheme, how to construct the model. Gradually distrust, squishie in the eyes of the "enemy", beginning to be replaced by sincere interest. But honestly, we left with the impression that to fully dispel doubts rivals failed. Especially after it started, when our gliders come with speed only slightly inferior to the results experienced athletes. And this is without the resonance of the exhaust pipes!
What kind of models caused such an unexpected reaction, what innovations inherent in their design? I hope you will be interested to know about it. And most importantly — that the story of the creation of a successful aerolister will help to make yet another step in the development of models of class B1, to design faster (and thus simple and technological) designs.
First of all, that led us to new solutions. In the circle a lot of guys do popular among young athletes class B1. Almost everyone is familiar with the basics of constructing aerovision; to thoroughly understand the issues of Aero – and hydrodynamics helped the article by A. Tupikin, published in "M-K" No. 3 in 1983. It described the direct dependence of the aerodynamic drag of the total surface of the model, called the "wetted". Of course, we wanted to go towards the maximum "compression" of all elements. But here and there were the greatest difficulties. Balsa we have on the model had to be hollowed out lime. What do you think of the thickness of the shell wall can really provide the hands of a boy? In the best case 1,5 mm. Yes, if the individual craftsmen and managed to bring it to 0.5 mm, it would still be pointless: the body would be extremely non-rigid and fragile. But lip thickness of 0.5 mm corresponds to the weight of the balsa wall thickness of 2-3 mm, used on the best models. We have the same fake "pipe" meter length was so heavy that I had to increase the displacement: the airboat with the engine off is required to stay afloat. The increase in displacement caused the growth of volume of the shell, its outer surface and… the Chain is closed — the mass went on. The boys could only dream about first-class machines, weighing 400-500 g.