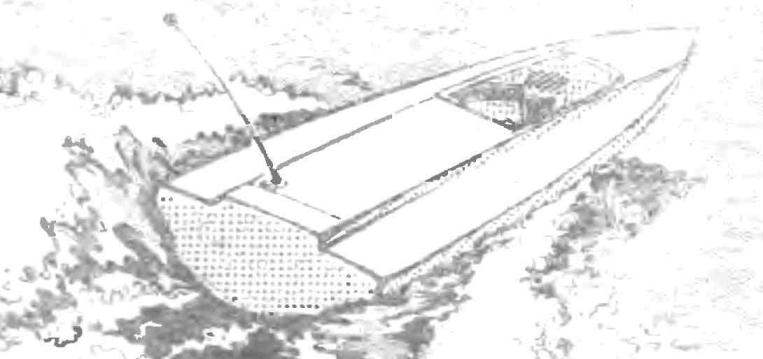 In this article we want to introduce you to one of the last successful boat designs intended for participation in endurance racing. It was created by the master of sports of international class V. Osadchiy, who took the class up to 6.5 cm3 first place at the USSR championship in 1983 with a score of 64 laps and first place at the international competition in the GDR with a score of 71 circle. Similar microtiter helped the master of sports N. Alexandrov to become the second in the match of the strongest athletes took place in Chisinau. New hull lines provide excellent course under difficult weather conditions, significant wave and wind.
Simplicity of design-rotor, the rejection of the use of difficult to manufacture high-precision reducer allows you to use published drawings and novice athletes. Still a valuable replacement engine "Vebra-40" can be a local MDS-6,5 with the cylinder pair in the "color" version. Trial runs of the model with this motor showed that it is not inferior in its characteristics to foreign sample. MDS-6,5 operated in the serial version, the revision only applies to the adapter that connects the exhaust pipe of the crankcase with a resonant exhaust pipe, and installation of ring nozzles water cooling on the shirt of the cylinder. At the request of the editorial Board V. Osadchiy, N. Alexandrov told about the features of the design boats-marathon runner.
The case of The model, the bulkheads, the transom and cover the same technology in the form of a sandwich of perekleiv: fiberglass — foam — fiberglass. As a filler used foam stamps PVC-1 thickness 4— 5 mm. Minimum weight with sufficient durability and high quality external surface provides vacuum forming, which are all elements of the case. A similar process is described in detail in the article by A. and S. Microskin, Chukalenko "RC F1 class-V5" ("M-K" No. 6, 1983).