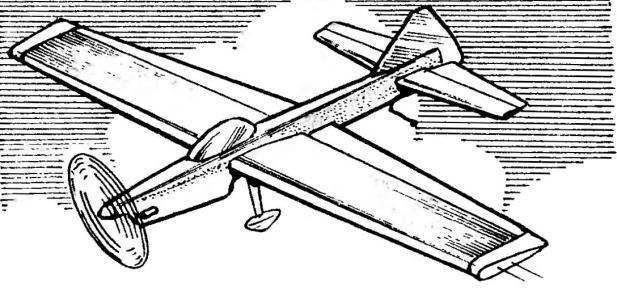 Beginners only pilots first, as a rule, "fly" for simple models, is designed for small "cubic capacity" of the engine. They learn to manage to work out a complex aerobatic figures. Over time, performance of simple models no longer satisfy them. There is a desire to build a more serious and heavier the aircraft under the engine more "cubing". And this is not surprising because in such a model, the flight characteristics much better.
Presented cord pilotage (CL. Р2В) — a sample of how would the transition between simple (small mass under ice-2,5 cm3) and complex (large mass, modular design, fiberglass, engine to 10 cm3). The proposed model is not so complicated but requires a certain experience in the construction and piloting. Its production takes three to six months, depending on the experience of the athlete.
Building the model I recommend to start with the wing. In plan, this trapezoidal shape, symmetrical profile. Ribs — balsa, with a thickness of 2.3 mm, with cut-outs to facilitate and balsa reinforcements in the form of two transverse slats cross-section 2,3×2,3 mm. Longitudinal — grained pine cross-section at the root 7×5 and 7×3 mm at the end. Until the middle of the wing panels (five bays between the ribs, counting from the body) and glued the spar web with Windows of relief. The forehead of the wing balsa plates (pre-soaked in hot water and bent on the mandrel), the lining of the wing, the trailing edge and lining of the ribs have a thickness of 2 mm. the trailing edge of the and its lining to form a U-shaped profile. The law-cavka inner wing (facing the athlete) light weight, and no, she's also in the zone of junction of the spar loaded twenty grams of lead.