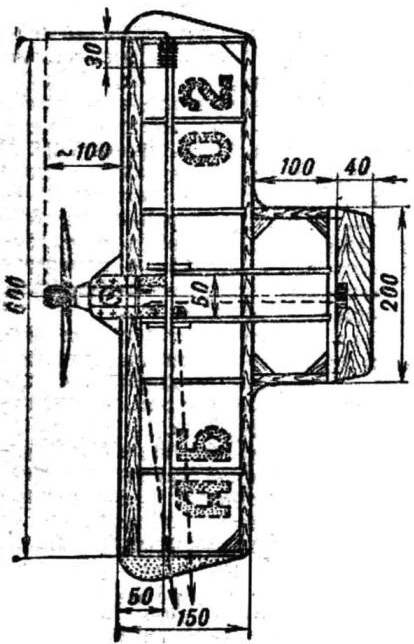 Readers already familiar with the workings of the Chisinau children's club "Firefly" of the Ministry of Moldova. Last year, the "M-K" printed drawings, model air combat "Firefly". This simple, durable and unpretentious bouzouki like many beginning modelers, as we judged by the numerous sent to our club e-mails.
Offer you another model of air combat. We teach her simple aerobatics, arranged the first competitions in a dogfight. First a few words about the methodology of work with the modelers adopted in our club. As a rule, the main parts and Assembly, the boys perform either at home or in school workshops, of course, according to the drawings provided by the club. Final adjustment of model elements, Assembly, debugging, installation of motors and close-fitting of the model is carried out in "Firefly". All this greatly reduces production time and allows once a month to conduct competitions for new technology.
All our members are organized into small teams: their composition, typically, includes students in the same school or vocational school. This team guys out on the competition, and demand for them must be signed by the Director of the respective institution. As shown, this contributes to mass such an interesting sport of Aero modeling.