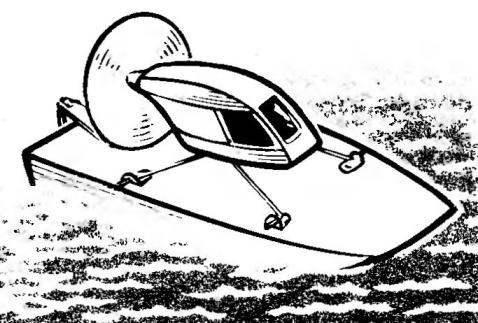 Adherents of certain types of modellers rarely use the design solutions and technological methods inherent in other areas of technical creativity. And it is in vain. The proof is a universal module that can with the most minimal improvements to turn into a car, air or sudomodel. As can be seen from the drawings, the module is a four-wheeled the trike with engine MK-17 "Junior".
Case universal module, the stacked type. His power base is a solid, mid-frame and rigidly connected with it motor mount. Frame sawed out of plywood with a thickness of 5 mm, mowram is made of plywood 10 mm thick. the Connection of these parts with epoxy glue and the joints of the motor with mi-del-frames are reinforced with plywood gussets mi (s).
Module chassis — hardened steel wire brand 50KHFA or OBC with a diameter of 2.5—3 mm. Good stands are obtained and long dural of knitting needles with a diameter of 4.5—5 mm. note that the front pair (and rear pair) of the uprights is curved from a single piece of wire. To Midel-frame racks are mounted with two M3 screws with nuts and dural lining. Gear wheels with a diameter of 40 mm plastic from an old children's toys of appropriate size. Fixing the wheel on the axle of the landing gear using two washers, fixed the threads with epoxy glue.