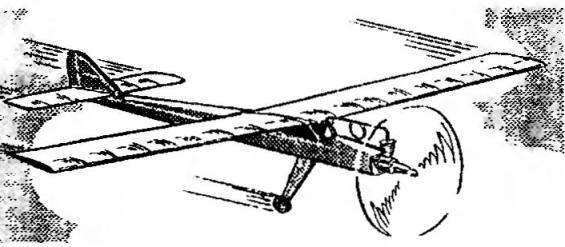 Whatever you say, but the popularity of a particular model often depends not on its flight data and… flight readiness. That is why many modelers prefer to equip their technique is not capricious and toxic internal combustion engines, and easy to operate electric motors, and carbon dioxide.
Readers Svobodnaya model airplane with carbon dioxide motor DP-03 with good flight characteristics with enough of its constructive and technological simplicity.
First, a few words about the power plant. DP-03 simple to operate pneumatic motor with a mass of 30 g, in which the engine speed reaches 2500 rpm.. a minimum time of operation on one filling of 30 C.
A model airplane is a high-wing aircraft with straight wings of large aspect ratio and large area, classic plumage and a box fuselage. By weight, geometrical and aerodynamic parameters is a glider, capable to make active the motor and subsequent, long-lasting gliding flights.