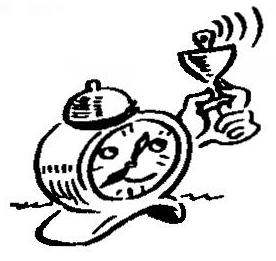 Currently, widespread electronic TRAVEL CLOCK and similar clock with a miniature buzzer as sound source — a reminder about the occurrence of the deadline. However, a small volume of the regular signal, as shown, are often not sufficient in order to Wake up, for example, soundly sleeping man.
I have also developed the connection of an external alarm that can significantly improve the efficiency of an electronic alarm clock. Collected such a device based on an Electromechanical door bell (GOST 7220-66), in addition to having a network of regular low-voltage winding for connection button, which has been equipped with electronic key transistor and relay with GER-meditirovaniya Contacts (gerco strength) in the load circuit. Moreover, the design applied in this relay is a special, so-called magnetic locking.
The fact that this device is in addition to the coil with the reed switch (see "Mode-list-constructor" No. 4'98 5'99) there is also the source of the polarizing field, the permanent magnet. Magnetodynamic force (MMF), the latter by its absolute value although not enough to trigger the relay, but it is quite acceptable to save the contacts in the attracted to each other position. In the result, there is no need for continuous current flow through the coil while holding the relay in closed condition.
The relay comes from the rather intense momentum, where MDS generated by the coil formed with the magnetic field so that the sum total exceeds the threshold of the reed switch. Then sealed contacts remain attracted to each other (closed) indefinitely without feeding energy from the outside.