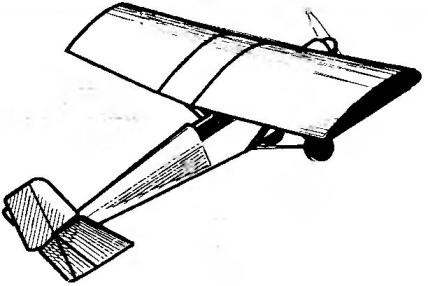 RC model airplane, provided in this publication, it is highly unusual for the national school of design. First of all it is established in accordance with more and more of the fashion for Maxi models (it is appropriate to recall that the rules of competitions of the International Federation of air sports is not the first year there is a subclass supermystery models). In addition, its overall design matches popular today modelers orientation on the old стиль1 when models are more like genuine planes 30 years, rather than a pure sports "shells".
"Eagle" is the name of this radiosure — has a very simple, easily reproducible design. There is no dispute in its power scheme, one will find a number of sites that you can modify according to personal ideas or proven methods of construction. However, the model is good and in the present embodiment.
The model is mounted glow motor a working volume of 6.5 cm3 and apparatus radio control with the actuator of the rudder, elevation and regulation of "gas" engine. Despite a pair of solo scheme, the "eagle" with a relatively small load on the supporting surface are well piloted and moderate winds. And the flight of such a device is not an example more advantageous than the traditional aerobatic model. In addition, the form radiosatellite allows you to easily determine its position in the air at a considerable distance from the pilot.