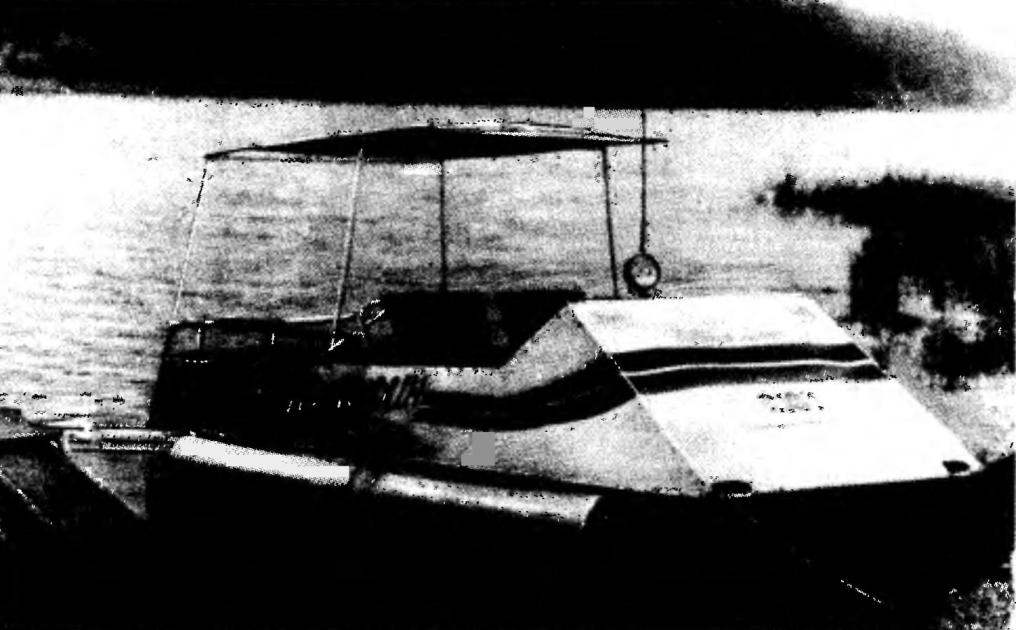 Dreams everyone has their own. Who about what, and Sergey Rudenko, an employee of city station of young technicians, in Slutsk, Minsk region, dreams of a children's technology Park. And not only cherishes this dream, but slowly takes it. Top aides to him in this—the children, all the surrounding kids. Together they create the basis for future Park equipment. At the teen club Amateur designers "Original", which Sergey Dmitrievich runs on a voluntary basis, already built about a dozen unusual machines: from moped to hydrometallation. The purpose of all machines the same: to serve children's interests. So the young craftsmen design themselves, build themselves, themselves and ride. It all started with aquapad "Dolphin", which S. D. Rudenko came up to summer at the lake the boys had fun.
The idea aquapad we hatched two years: estimated, counted, drew the design, selected the materials. When the image "Dolphin" finally emerged, got down to business. And although in the Studio at that time there was not a lathe or a welding machine is only an electric drill, a vise, Yes, the usual locksmith tools, construction took only two weeks.
Aquapad get a stable on the water, comfortable to drive and quite spacious (on Board — five seats). It pleasant to take a boat tour to fish. Useful "Dolphin" and for rescue operations and towing boats. At the same time it is not required any maintenance.
The design of the boats is quite simple, so I don't think there is a need to give her details. And copy to build, hardly anyone will undertake. Enough, I think, are the main idea and to take into account the shortcomings that have come to operate.
"Dolphin" consists of two floats, deck and body, which in a matter of minutes easy to install the windshield and the roof-tent.
Deck recruited from the United screws longitudinal and transverse wooden slats cross-section, respectively, and 40×30 50×30 mm and the top is lined with 3-mm plywood. Folding seat made of plywood 10 mm thick polyurethane foam and covered with oilcloth. Under the left seat is a box with battery waypoint spotlight, under the right — Toolbox. The middle seat is a hatch, through which you can see the gear or adjust the drive belt tension.