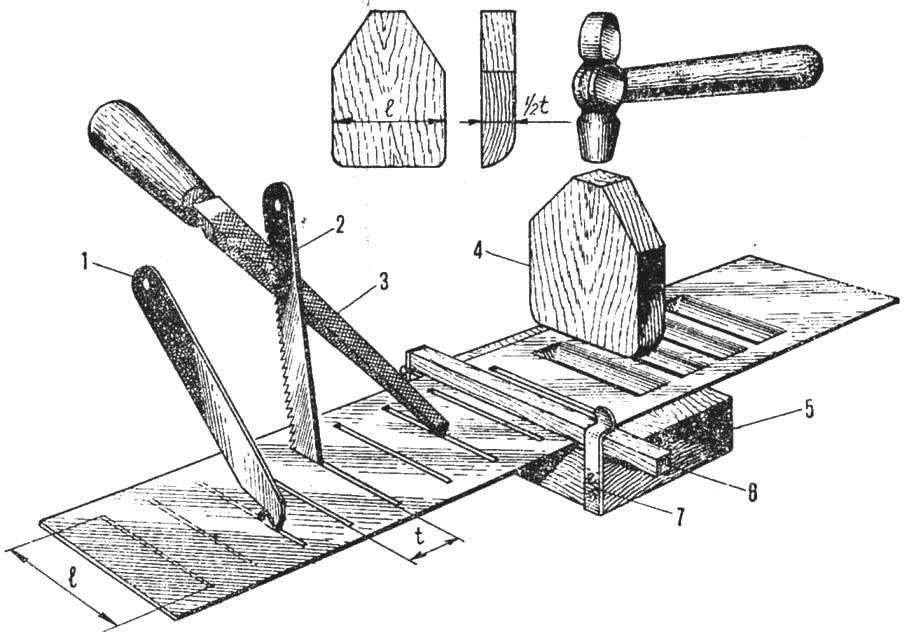 Modelers or hams sometimes need to make the blinds. For example, for the bonnets of models-copies of planes or metal housings radiokonstruktor. Offer a simple way perform in the home workshop lamellar louver made of sheet aluminum or steel.
The sequence of operations shown in the figure.
After marking plate cut at a shallow depth by a cutter made of a piece of saw blade and then the saw blade saws through the canvas. The Burr is removed with a triangular file or a needle file.
1 — cutter, 2 — blade, 3 — file, 4 — punch, 5 — sensor, 6 — a clamping beam, 7 — retainer.
Now the plate is put on a Board of soft wood (aspen, basswood, pine) and strong hammer blow on the punch of the appropriate form, delivered to the edge of the cut, beaten out "ear" to the desired depth.
The punch should be made of hardwood (birch, oak or beech).
A. YAROTSKY, mechanical engineer, g. Gaysin
Recommend to read
FOR BATTERY GOOD!
Motorists have to periodically refill the battery with distilled water, but it is not always at hand. In these cases, the use of rainwater or snow water. A good source of distilled water...
MAGNETIC KEEPER
Magnetic stand made from old magnet, will take care about the safety of various small items — from paper clips and pins to "precisely" small tools and fasteners. It will also help to...