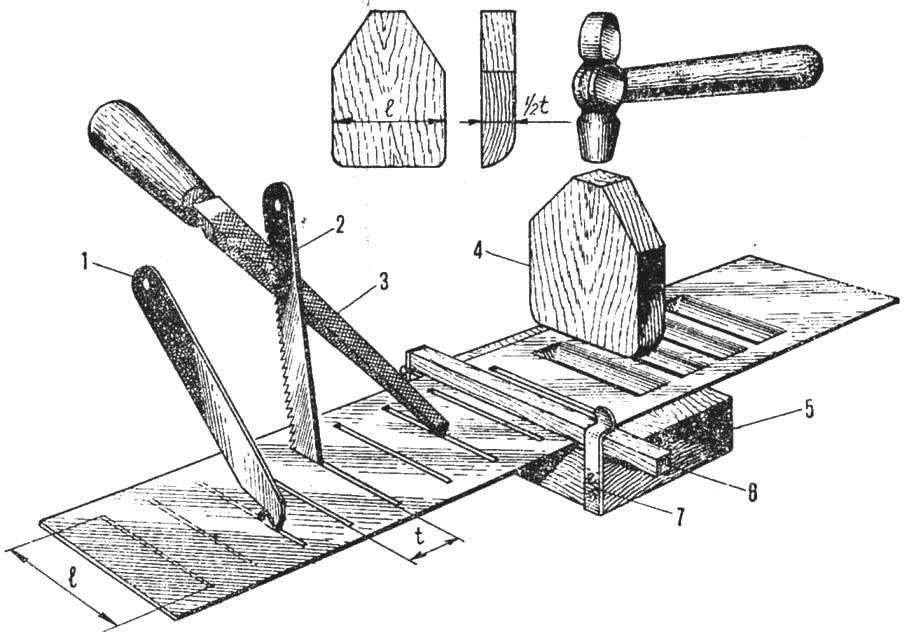 Modelers or hams sometimes need to make the blinds. For example, for the bonnets of models-copies of planes or metal housings radiokonstruktor. Offer a simple way perform in the home workshop lamellar louver made of sheet aluminum or steel.
The sequence of operations shown in the figure.
After marking plate cut at a shallow depth by a cutter made of a piece of saw blade and then the saw blade saws through the canvas. The Burr is removed with a triangular file or a needle file.
1 — cutter, 2 — blade, 3 — file, 4 — punch, 5 — sensor, 6 — a clamping beam, 7 — retainer.
Now the plate is put on a Board of soft wood (aspen, basswood, pine) and strong hammer blow on the punch of the appropriate form, delivered to the edge of the cut, beaten out "ear" to the desired depth.
The punch should be made of hardwood (birch, oak or beech).
A. YAROTSKY, mechanical engineer, g. Gaysin
Recommend to read
BENDABLE TIN
Not always the sheet is bent along the marked line — this applies particularly to small details. The case will help the cutter, sharpened an old saw blade. Along the fold lines, make a...
MOORING IN MINIATURE
When making thumbnails or sports models boats and ships, from small sailboats and light to heavy and huge battleships — be sure to take models of such elements of the mooring devices, as...