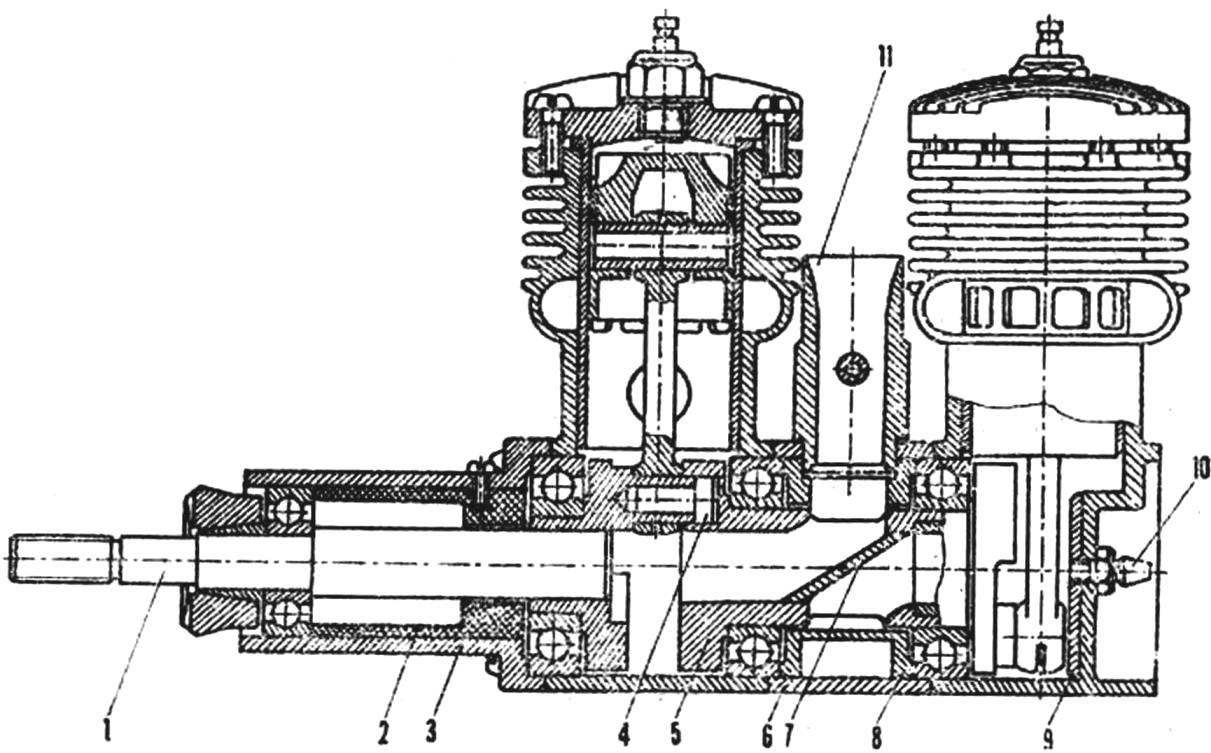 Conceiving a new microplane, any Modeler primarily decides which engine to put on it. One of the motors power is not enough, others too large, others strongly vibrate during operation. Many disadvantages of single-cylinder engine delivered a two-cylinder of the same displacement. They can be built on a variety of schemes: boxer, Y-shaped, inline. In some cases, if the Modeler is not very important weight, two normal "odnotrahniki" mounted on a common metal frame, connecting the shafts through the gear transmission. This allows to raise efficiency of the propeller by increasing its diameter at low speed.
As a rule, two-cylinder engine can have an almost complete dynamic balancing. This is important for the resource model and, if it is RC, the reliability of onboard equipment. After all, studies have shown that the vibration of the bow radio model weighing 3 kgs, caused by jolting of the engine "super tiger" 10 cm3, you experience overload, reaching values of 30 q!
As the volume of the individual cylinders in two times less than the total volume, dvuhserijnom easier to boost. Moreover, the engine of small cubic capacity, as a rule, have a higher liter capacity.
It should be noted and a more even stroke twin cylinder engines. Because of this, no need for a massive flywheel to ensure the stability of idling conditions.
But with all these advantages of multi-cylinder engines, many are deterred by the complexity of their manufacture. You have to make a shell mold for casting of the crankcase, rastakat him to get the materials for the piston pairs to perform complex heat treatment, grind crankshafts… Requires a solid machine Park, not accessible to everyone. And the complexity is large.