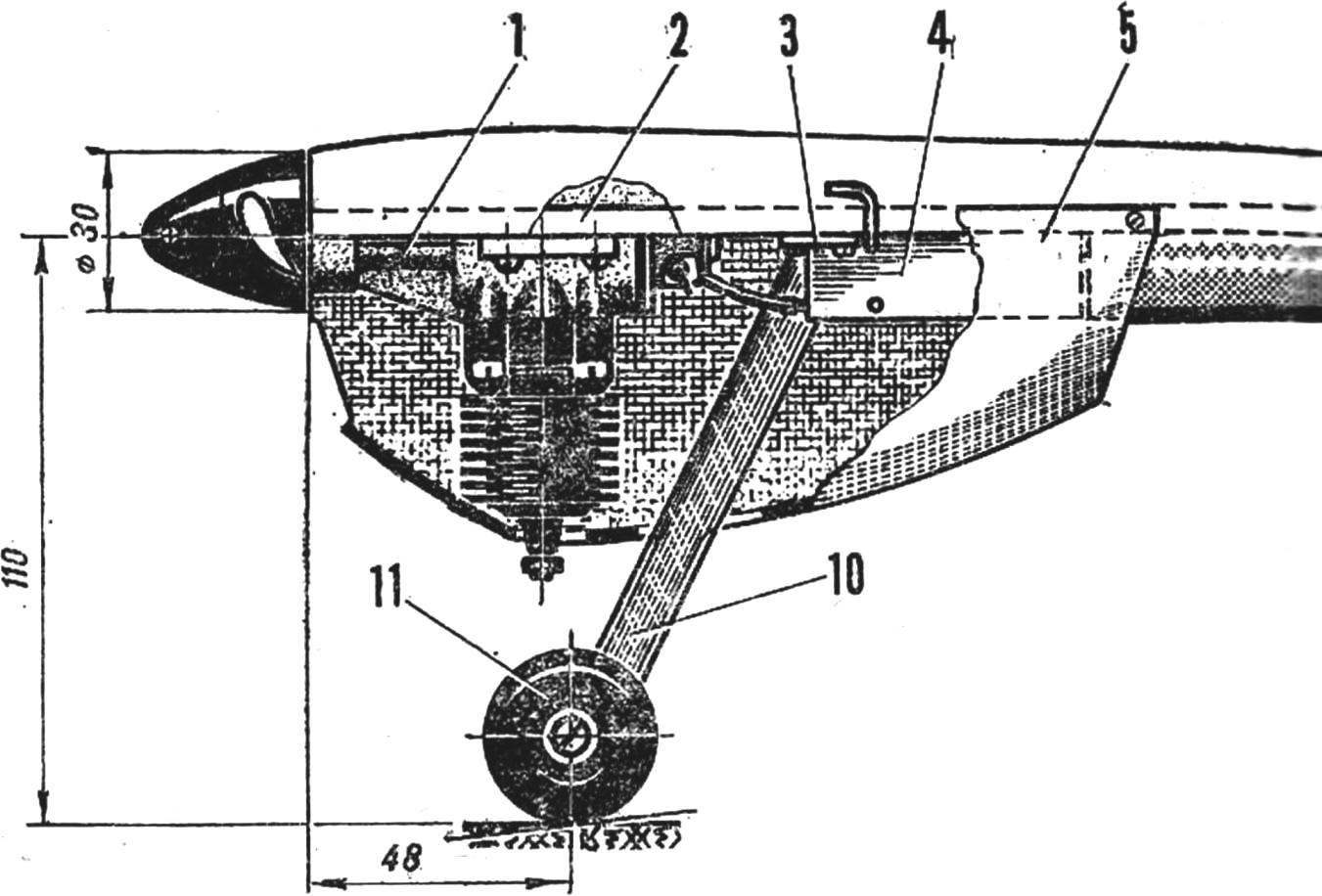 How many points of support should the aircar! Competition rules allow at least three. Earlier it was mostly given preference to such schemes to "extra" fourth wheel is not retarding the model. But someone came up with the idea to tear from track two. How to do it! It turns out, is only an extension of bar-spring rear track so that it turned into a wing. Yes, in the wing lift tail part of the body.
We present to your attention model is built on such a scheme. It is very simple to manufacture, and has repeatedly shown good results in competitions. An important advantage is the small distance between the axis of the screw and the ground — this reduces the influence of the diving moment from the thrust of the plant.
The FRAME of the aircar made of D16T sheet of 5 mm thickness. Accurately mark the workpiece (405X45 mm), cut out all specified in the drawing window and drill the holes, then treat its outer contour. Fit in place the engine decernite the centers of the holes for the screws, drill them with a drill bit Ø 2.5 mm and cut the thread M3.
The WING is a simple type of sheet duralumin with a thickness of 1 mm. Cut out the scan, will zakruglenie its front edge and taper the back. The resulting polished billet wing, drill in it, with the tail of the frame two holes Ø 2 mm for rivets. Now bend the plate: the ends will be the rear wheels. Rivet the fender to the frame. Don't forget to saw through with a jigsaw, two shown in the drawing, slit, forming a kind of wheel height, which bending will be possible to achieve the optimum position of the body during a race.
FAIRINGS are of almost the same shape. The only difference is that the bottom breaks off in the tank. They are made like this: first frame is glued on both sides (BF-2) bars of foam stamps PS-1 (blank: 50X20X410 for the upper and 50X20X260 mm for the lower). After the glue has dried they are processed to obtain a predetermined shape. Do it better with a sharp knife with the subsequent finishing of the surface with sandpaper. Then the frame together with the foam glued fiberglass with a thickness of 0.1 mm, impregnated with epoxy resin are prepared. After curing of the resin the outer surface vyshkurivaetsya and arricivita. The nest under the engine crankcase can be cut with a knife and a chisel. Its inner surface is better also to paste over with fiberglass or just cover two or three coats of resin.