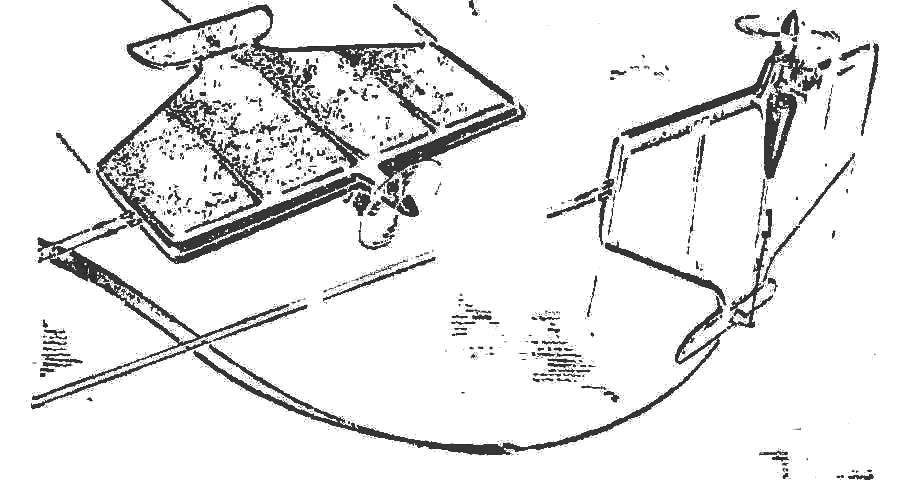 If in the famous Guinness book of records recorded the simplicity and manufacturability, today we present to your attention a model would be the first contender for such a record. Especially attractive it is for young athletes. This model is a "bouzouki" with the engine working volume of 1.5 cm3. And all that will be needed for the manufacture of its frame, — a little more than five meters pine slats section 3X12 mm. They are easy to saw on the machine "Skillful hands". The weight of the rails is about 100 G. Hence, with a relatively large wing area (dm2 21) it is easy to achieve a low specific loading and good maneuverability.
Unusual looks the leading edge is the spar with the corners-ribs (this part going first). Many intermediate developmental samples, I managed to find such an optimal scheme of the main frame element "lorry". Bad aerodynamics profile! Flight tests do not confirm this. But try to instruct the boy to make such edge not corners-ribs and filling with Styrofoam! Glue on it it will go not less than the weight of the whole frame. It would be possible to whittle a solid powerful Reich! Yes, you can, if not amendments to the ineptitude of those boyish hands, as shown, the wings with solid edges never have a symmetrical profile on the most important part — the nose. We offer the same option edge easy to Assembly (like all other nodes on the epoxy resin), is lightweight and quite durable. Moreover, it is useful to prepare in advance a large number of T-shaped blanks. Some of them will go to the ending.
Fig. 1. Control line model airplane air combat under the engine working volume of 1.5 cm:
1 — ending 2 — ending reinforcements, 3 — solitaire (pine, 3 mm thick), 4 — front edge. 5, the spar 6 is an additional side bar, 7 — area-rib pine (thickness of 1 mm), 8 — weight (lead weight 15 g), 9 — a covering (Mylar film), 10 danladi (plywood with a thickness of 1 mm), 11 — tabs strengthen joint edges (pine, 3 mm thick), 12 — knot fastening tape 13 — "fin", 14 — half of the Central rib 15 of the rib 16 and rear edge 17 — stabilizer. The details of the poses. 1, 2, 4, 5. 6, 13, 14 15 and 16 are made of pine slats section 3X12 mm
The Assembly of the frame is flat on discord Board or table, prolonged unnecessary piece of Mylar film with planted under her drawing in full size. All joints are adjusted as carefully as possible, smopu applied only after a careful quality control mutual adjustment of parts. After curing of the adhesive mounted under engine elements and control system, the sharp corners of the edges are slightly rounded and the frame is prepared for cording.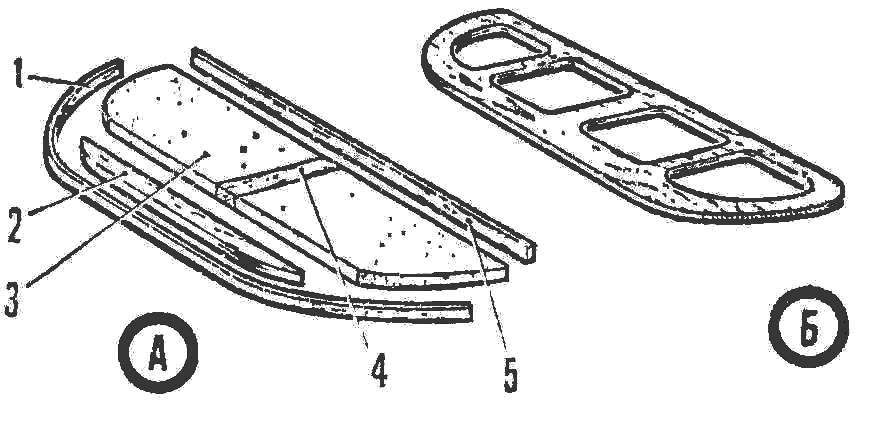 R and S. 2. The Elevator:
A — foam option: 1 — bezel made of pine slats are 1X4 mm, 2 — front edge of a pine Renn 4X4 mm, 3 — foam plate, 4 mm thick, 4 — panel behind the horn. 5 — the rear edge of the 1X4 pine slats mm, plating — from thin paper white glue;B — telefonerna option (shown in NZ made of plywood thickness of 2.5—3 mm, preparation of plywood in the thickness 1,5—2 mm