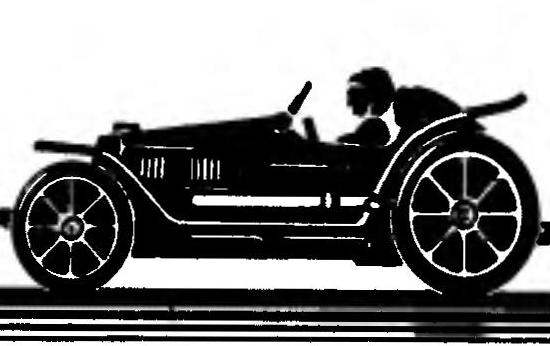 Before you start the story about our new model of class RM-2, we want to go back a little and to remember with gratitude the publication in "M-K" № 5 for the year 1991, which was the first time in the practice of automodelisme describes the main design principles rezinomotornaya. It should be noted that many of the points of the article for us was, if not a revelation, then at least unexpected. This is especially true of the exploitation of the rubber motor harness, a choice of parameters of the chassis and check the nature of the motion models in the boost areas.
From Opublikovano material suggests a clear conclusion: the undeniable advantage will have the most valid rules of size and having, moreover, the drive wheels of the maximum diameter. Because these models represent, if not copies, at least polyopia is a very important choice "prototype". Review the entire history of vehicles gives an unexpected result: for the conditions rezinomotornaya best suited to the machines like "Ford", artillery tractors began in Vienna (called "tractors") and historic racing cars.
The first alternative, which we refused due to the unimaginable heights of the machine with the "palanquin" (except for at the very least strange appearance, this model will have a noticeable aerodynamic!); the second not only enough raw materials at our disposal, and questionable login start more than low-speed "prototype" in the conditions of the race track. Therefore, it was selected the copying direction, that is historic cars record type.