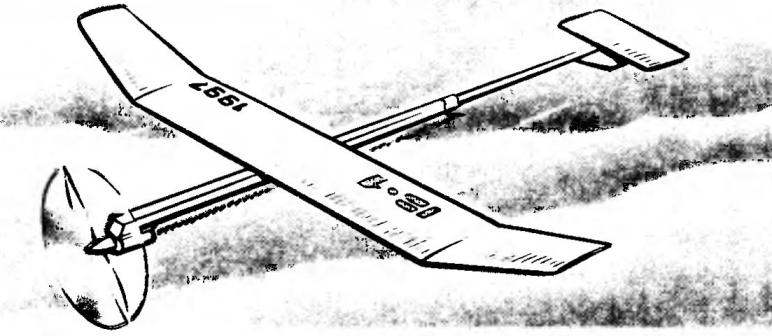 Proponents of class rezinomotornaya expense of building a traditional model B1, do not turn the page of the magazine, seeing the drawings of equipment, by the external signs relating to the child "schematical"! Overcome the neglect of long ago you passed the scheme and read the material. You may find many interesting things.
So, what sort of machine it is proposed to discuss? This resonatory corresponds to the modern concept of championship models, but the number of its nodes different from the usual. The main innovation — the simplest fuselage of slats instead of the customary tubular. Thus, the harness of the rubber motor is on the outside as on the "schematica" for younger students.
Do not rush to condemn such a decision. First try following our arguments, weigh all the "pros" and "cons". The positive here include extreme ease of manufacture of the fuselage rack, its low weight and sufficient reliability. If we talk about the negative, then, in addition to the insecurity of the harness of the rubber motor from dirt, nothing more substantial to lead will fail… Judgment about external ugliness "schematic" to address the serious impossible to recognize.
But the arguments that can tip the scale in favor of the fuselage rails. Will try at least as a first approximation, to determine what is better and what is worse from the standpoint of aerodynamics. Do not think that you can make immediate and unequivocal verdict of the rail. The most important criterion here is the amount of total external so-called wetted surface. Have a tubular fuselage perimeter with a diameter of 28 mm is approximately 88 mm. And the "schematic" design — only 48 mm. Rubber band outside, will add to the value of approximately 25 mm. In total perimeter (and, hence, wetted surface) of the power part of the fuselage in the second case, winning. As for the apparent neurobiochemistry twisted harness rubber, it is necessary to consider that the entire rubber motor hiding in the wind shadow of the boss of the propeller with all the attachment of his folding blades on the angular ends of the hub. By the way, the same can be said about the planning mode, when a propeller blade was folded along the fuselage.