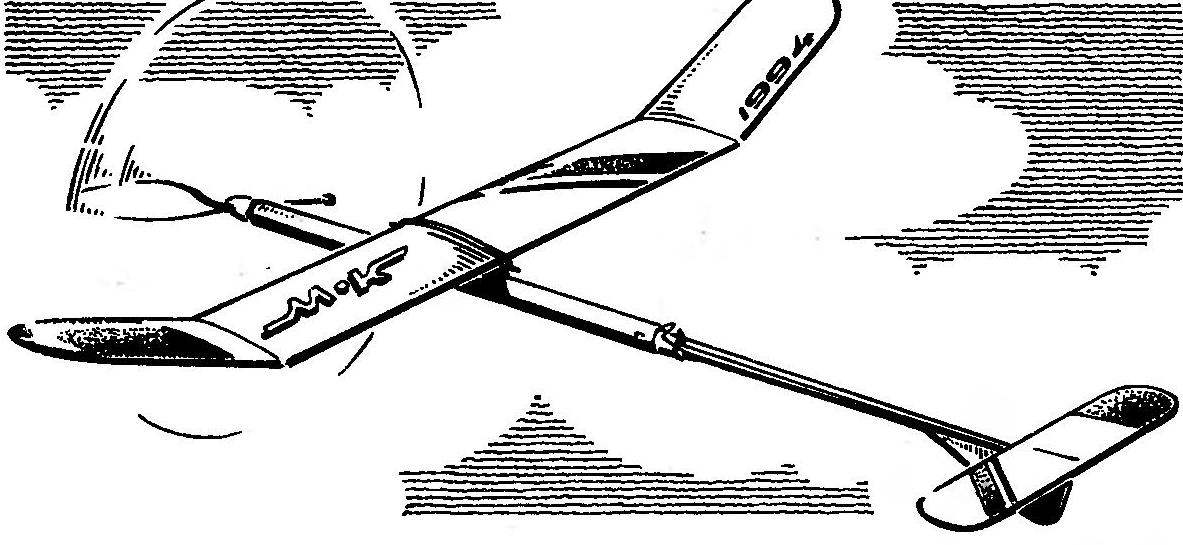 The magazine "M-K" in the last few years has published a number of interesting patterns with rubber motor, with an unusual decision nodes, and technological methods of their creation. Let "garbage weed" from their schemes, to design, we think, a very good and promising machine of the class B1, which combines not only good flight and operational characteristics, but also the manufacturability at a maximum nedvizimosti raw materials.
"Inspirations" for the new development was triggered by two previously published designs: rezinomotornaya B1 with very simple "schematic" wing and do a schematic model with folding a single blade propeller. In the first development of the most valuable we thought the approach to the design of the fuselage part, presented a power tube (two layers of cardboard with a thickness of 0.2 mm), passing in the simple catching of the tail boom. Schematic diagram of the wing with two power edges a cross section of 4X4 mm and 17 ribs-strips cross-section 2 X8 mm (I) we have considered too peretyagina, in low torsional stiffness and is not too high aerodynamic characteristics. The same applies to the "schematic" tail rezinomotornaya. From another article most attractive for class B1 it seemed to us the decision node of the propeller: when producing juniors "tolomatic" is clearly more advantageous, as in the classical two-bladed performance clearly present the losses due to the asymmetry of the profile and stiffness characteristics of a pair of blades.
Do note that the wing of the new model was designed with a view to further transfer of proven technology for championship technique. Therefore, although it is quite easy for machines of the class B1, it is visible tangible reserves of strength and stiffness sufficient to create the wings much larger and elongation.