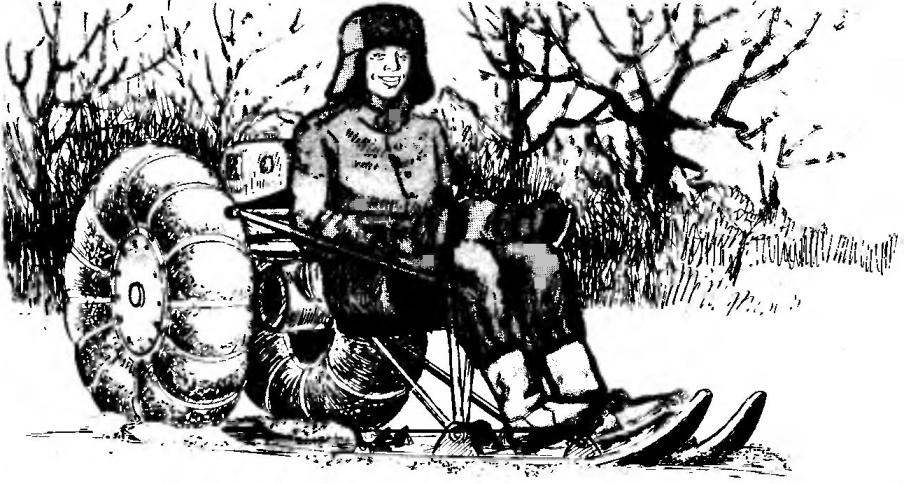 When winter comes and the snow is "fluffy blanket" covers the ground in many areas, the only vehicle able to overcome it "fluffy blanket", it becomes tracked all-terrain vehicle or, more commonly, a tractor with a sled-scraper. Of course, you can buy a Japanese ski-goose-nicou Yamaha (though it is worth more than another car) or buy now rare a cheap domestic "Buran". However, always need such a powerful machine?
We offer our readers a small wheel-ski snowmobile—simple, unpretentious, simple to manufacture and inexpensive to operate. This car, dubbed the "Penguin" is a vehicle of an articulated scheme, which allows the rear wheels to navigate through the compacted skiing track when driving straight and in turns. The name "Penguin" . got in the way of movement, similar to the approach used by these birds, which placed a chest on the snow and pushing with the legs, very quickly slide forward.
Snowmobiles equipped with an engine type V-50 (these were used on mopeds "Riga" or "Carpathian") and can reach the speed of 40 km/h.
The basis of the "Penguin" is the tubular frame which consists of two parts (half-frames), connected by vertical hinge. The rear frame are mounted the engine, fuel tank and rear axle with a pair of pneumatosis low pressure. On the front of the half-frame supported on two skis, mounted the driver's seat and set the controls of the snowmobile — levers directional control lever clutch, crank the throttle of the carburettor ("gas"), handle gear shift and pedal brakes pin type.