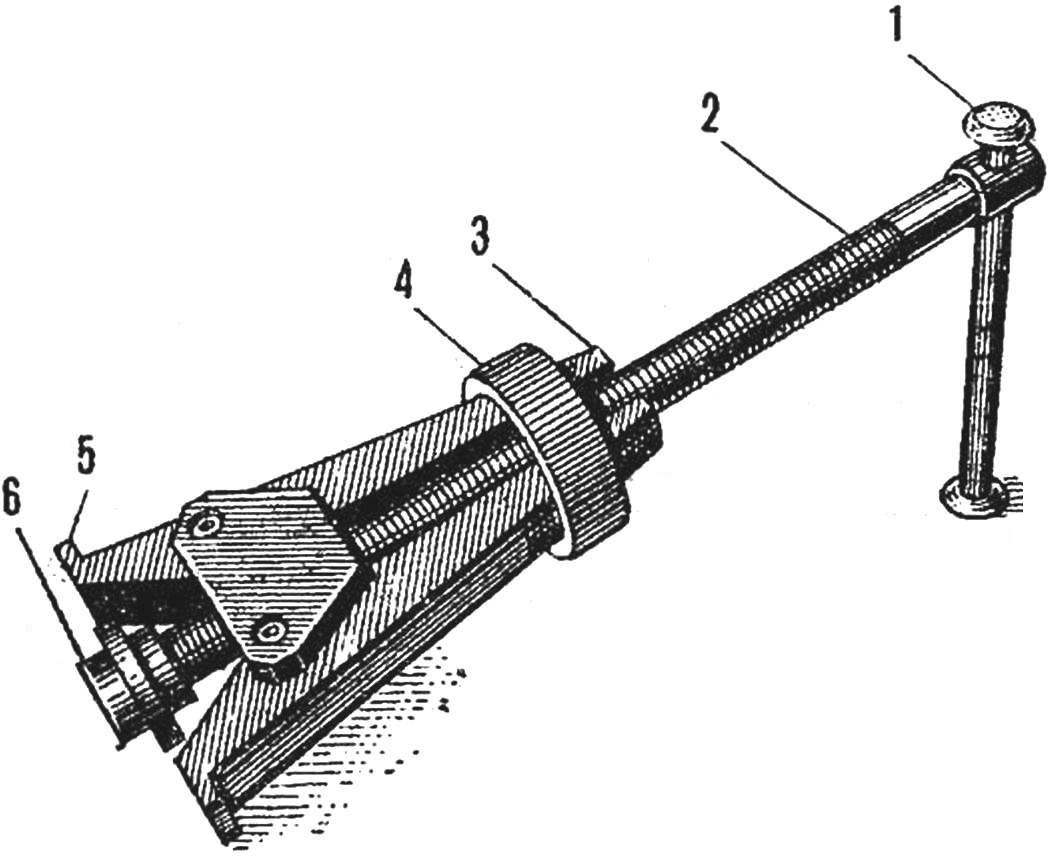 How diverse is pressed in units of parts so numerous and adaptations for wheel — pullers. However, the majority of them operates on the principle of ejection. Well, if the part is pressed into a blind hole? How to extract, for example, the sleeve or the bearing? The original puller for these cases, constructed by the innovator A.V. Yakimenko with the Odessa plant "Stroget-replica". The principle of it is somewhat reminiscent of some designs of household tailspin.
The device consists of two grippers with a tapered shank, a movable locking sleeve with two rectangular grooves, a screw with a handle at one end and heel-focusing on the other.
Puller in working position:
1 — screw, 2 — screw, 3 — conically# shank, 4 — locking bushing, 5 — grip, 6 — heel — focus screw.
Works in the following way. Captures in a compressed state is introduced into blind hole with vypressovyvaniem case. Then press on the top and fix them in the decompressed position by the bushing. The projections of the hook grips the edge of the sleeve. Now you can start to rotate the screw handle his heel rested in the bottom of the hole and gradually squeeze the grips with the liner out.
Recommend to read
UK-4: MORE ABOUT THE NEW FEATURES
In last year's fourth issue of the journal, I read an article about Razakhatskaya V. the machine "Skillful hands". There is proposed a device for drilling. But it will have to cut off part...
CARTRIDGE-CLAMSHELL
For screwing a screw includes a head, screw slot. And studs there is nothing: only a cylindrical body with thread. For screwing it in parts, there are special tools, but many of them are...