To make this model forces students 4-6 grades, first starting modeling. The first detail which you will need when building Navoiy 6. It is made of the housing 4 missiles and cap-cone 1. The last carved out of tree diameter casing.
The case is glued of drawing paper in two layers. The sheet on the perimeter lubricated office or joiner's glue, and after drying, the resulting tube is removed from awaynike. Then on the edge of awaynike wind the rod cap (the size in the drawing), and finally right to the body wikiepedia fairing 2.
Stabilizers 5 rocket cut according to the drawing of cardboard with a thickness of 2 mm. the body of the rocket is installed on the latch 7, and through his slit stabilizers are attached to the hull with wooden wedges into the glue. When the plumage is dry, the wedges are taken out from the crevices of the catch and the housing is removed. After carefully Stripping it in any color, preferably a bright color.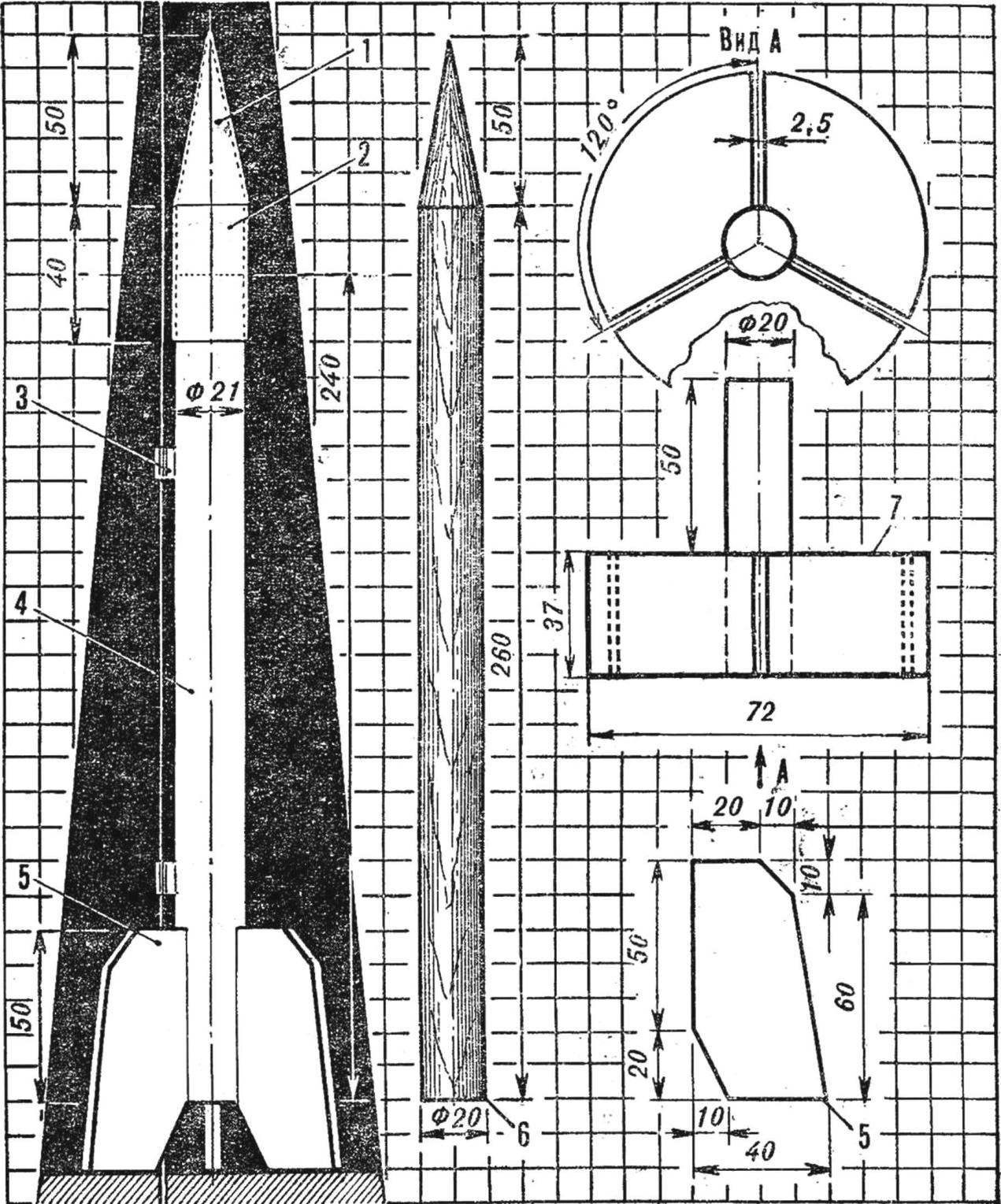 Parachute Ø 300 mm made from lightweight fabric. Eight sling is made from thread length of 400 mm. After that, the housing is fixed to the shock absorber out of rubber bands with a length of 100 mm, the other end it is attached to the parachute.
P. SARYCHEV
Recommend to read
DEADWOOD… FILLING
Every constructor of ship models know how difficult it would be to "bind" the motor with a screw. Especially when we are talking about models up to 50 cm   Dadude doing all sorts,...
100 SECONDS IS NOT THE LIMIT
Parameters and characteristics of the model correspond to the categories Ѕ8А and Ѕ8В. The diameter of the container under the engine selected in accordance with a cross-section of the...