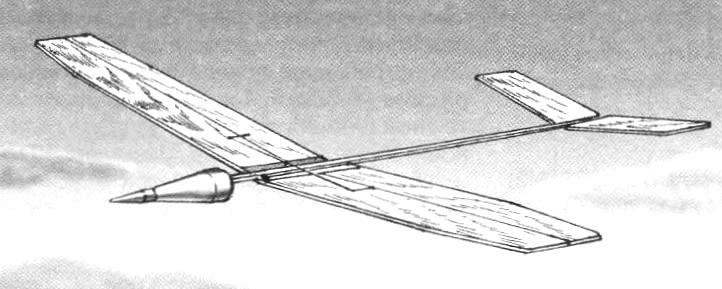 The first time I saw this unusual rocket in 2007 in the championship of Russia in Orel. At the start of class models Ѕ4А my attention was drawn to the flight of the rocket glider container type. From the start of the Protocol we learned the name of its designer — Sasha Scoops from the team of the Krasnodar territory and the flight time is maximum (3 minutes). Just wanted to meet the designer, but in the starting area he appeared and after the second round. But the Protocol after the red number "180" was listed a "0".
After some time, this metamorphosis was solved by me. "Fly" well in the first round on the "main" model, Sasha tried to find for start-UPS in subsequent rounds. And this search was very long, but, unfortunately, the model (well-established) couldn't find. I must admit that his other sports "shells" at the time, needed to be fine — they flew more unstable. In the end of the competition hope the designer did not come true, busy place — in the second ten.
My offer to talk to Sasha reacted with interest. Apparently, it was the desire of some "rehabilitation" in the failed starts.
Lives and studies Sasha Scoops today for the 11th grade of Slavyansk, Krasnodar region.
With eight years of experience in modeling, and then — and rocket modeling with the wonderful teacher Anatoly Ivanovich Resin — one of the few existing today veterans additional education in Russia. Here it should be noted that Krasnodar Krai is one of the pioneers of rocket and space modeling in our country. A lot of work in this region is carried out today. Here lived and worked the designer of the first flying engine Evgeny Leonidovich Books. Here to this day working trainer-teacher Oleg Petrovich Good, and raised many prize-winners of European and world Championships.
His first flying model aircraft he has built, studying in second grade. A year later, he was fascinated by model rockets. In 2005, his ideas were realized in a new and interesting model of the rocket plane unusual design with a folding wing and tail feathers. In the same year he became the bronze prize-winner of superiority of Russia on sports flying, and in 2007 took first place at regional competitions.
Today Sasha successfully finishing the 11th grade, with the mood, makes model rockets, and in my dreams sees himself as a designer of these missiles. I want to believe that the child is his passion will become the first step into the profession of a structural engineer.