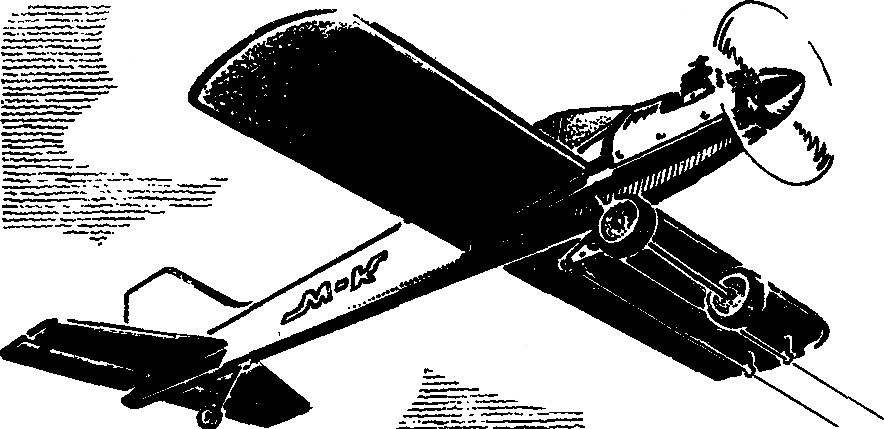 Among novice modelers-korovikov argued that in the manufacture of teaching models overly bother not worth it — still the aircraft destined to endure at best a couple of flights. Well, can't argue with that: indeed, clumsy, carelessly made and poorly assembled control line plane finished its flying service at times on the first laps on the track.
We offer beginner modelers is very simple and at the same time, enough flying, rugged aircraft, with a very attractive appearance polyopia modern sport aircraft.
The power plant model is a compression engine with a working volume of 2.5 cm3 type "MARZ" MK-12V or KMD-2,5. Suitable polutorametrovy MK-17 "Junior"; however, it will have to be especially careful to monitor the mass of the model so that its flight properties to maintain at an acceptable level.
The fuselage of the model combined. The front of it carved from lime wood thickness of 12 mm, and the rear is a flat stacked I-beam construction, glued top and bottom spars (pine slats section 5X12 mm), vertical posts (pine slats with a cross section of 3X12 mm), and braces (also pine strips 3X12 mm). Please note that vertical uprights and braces can be cut, in particular, from an ordinary school ruler. The connection of the parts of the fuselage is best done in the simplest slipway, which is a flat Board, on which is laid a sheet of paper with the applied contour of the fuselage. On top of the drawing is overlaid and secured with plastic film, anti-adhesive drawing parts of the fuselage. The latter are fixed on the stocks with small nails hammered into a Board at the outside edge prasowego image. When the Assembly items are further pressed to each other with small nails. Gluing is done with epoxy.