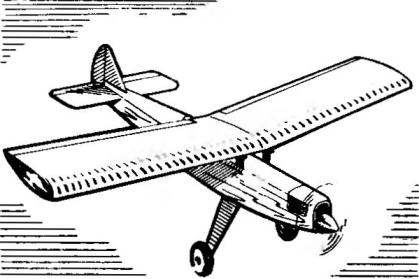 Despite the popularity of radio controlled model airplanes-srednevekov, the attention of designers-modelers often drawn to the now obsolete scheme. And this is understandable — after all, the "big" aviation, such machines include a spectacular cabin aircraft, starting with the domestic Yak-12 and ending with dozens of options American Cessna.
Do not sidestep this scheme and the designers of "small" aviation: on model market you can find many Western kits parcels kits parts RC vysokopreosv. It is considered that for the training of the model is needed primarily increased resistance roll, which supposedly ensures the application of the scheme to "high". However, allegations of high resistance training models and support through the use of the above-mentioned scheme is quite controversial, however, model-vysokopilya appear again and again.
Paying tribute to the "retro" style in modeling, we offer our readers a successful, in our opinion, the development of radio-controlled models, built on a rare in the modeling scheme "parasol" (its main feature is the location of the wing on struts above the fuselage). Such a solution simplifies the manufacture of the apparatus for eliminating multi-part cockpit and at the same time makes the microplane fashionable retro style.