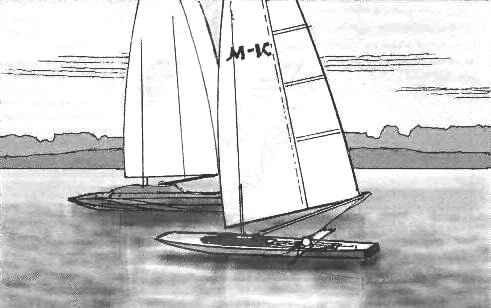 Speed radioact with a sail-wing. Competitions of radio controlled model yachts are one of the most exciting. Silent glide of sailboats on the smooth surface of the pond, clearly they can perform turns and maneuvers gives the audience the illusion of a real sailing regatta. And being a full sailing gear, becoming a member of these competitions, you just — you just take a radio controlled model yacht that is not too difficult, although the work is — for neat and patient.
The present model refers to the number of high-speed, which helps the body with not "yacht", but rather with the "boat" lines and unusual sailing rig, formally consisting of a profiled mast and relatively small sail, which from the point of view of aerodynamics collectively represent a wing with a symmetrical profile, with flexible flap.
To begin with suggest making a model. Best applied to the wall it of fiberglass on the disc; the latter can be made of plywood and foam.
Plywood with thickness 3 — 4 mm need for patterns cross sections of the hull, which are cut from it using a jigsaw according to the theoretical design. Well, the foam sticks are designed to fill gaps between patterns, the thickness should correspond to the distances between cross-sections minus the thickness of the plywood.
Further, foam and plywood multilayered glued "big Mac", in which veneer layers are interspersed with foam. Focusing on the contours of the plywood templates to the foam using astrosatchel-tion of knives and coarse-grained skin adjusted to the shape corresponding to the theoretical drawing, after which the workpiece is cemented (best to use two-component autosplice — it quickly solidifies and can be easily processed), and then vyshkurivaetsya.