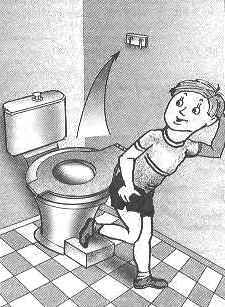 Was "from a pot two inches", but here grew the baby becomes independent, although the adult toilet yet still too big for him yet.
I advise you to make from plywood and boards here's a flip from the wall console and the step — child will be able to use the toilet.
A. SMELYANSKY, Saint-Petersburg
Recommend to read
CHILD — ADULT
For a Bicycle with an open frame (like "gum", "salute"), I made a small, simple, easy child seat. This is the place for your child can be called even comfortable — it's soft and equipped...
AND SIMPLY AND CONVENIENTLY
Lee leaves baby stroller out of the house (where now find entrance without stairs?), overcome whether the underpass is on the platform of the station or stations everywhere have to...