In the CSC-306 MAI constructed several devices with the power electrical system, but to talk seriously about the problem of creating a workable small elektroleta became possible only after supervising the Department has developed a unique brushless DC motor. It is characterized by light weight, high (95%) efficiency, and specific energy parameters 3-6 times higher than the corresponding characteristics of a known commutator motors.
Our most recent development is tele-piloted the plane with electric drive "Electrolet-2". Structurally, it is easy delawarefastcash design with a pusher propeller. As shown by experiments and calculations, the apparatus built according to this scheme, has good flow and small turbulent losses. In addition, the lack of a propeller installed in the bow of the gondola allowed him to set her sensors temperature, pressure, and camera.
ELECTRICAL SYSTEM. It includes power motor, electronic speed controller, an onboard receiver radio control system and two servos drive the elevators and directions.
For comparative experiments we used two motor — brushless DC with rare earth inductor rotor and celineforeveranangel conventional commutator motor with a serial excitation. Their parameters (in brackets — the characteristics of the commutator motor): efficiency — 91 % (55%), weight — 1 kg (0.95 kg), long-developed power — 200 W (80 W), max power 500 W (170W), speed — 0-10 thousand rpm (0-7500 rpm), voltage — 27 In (27 In).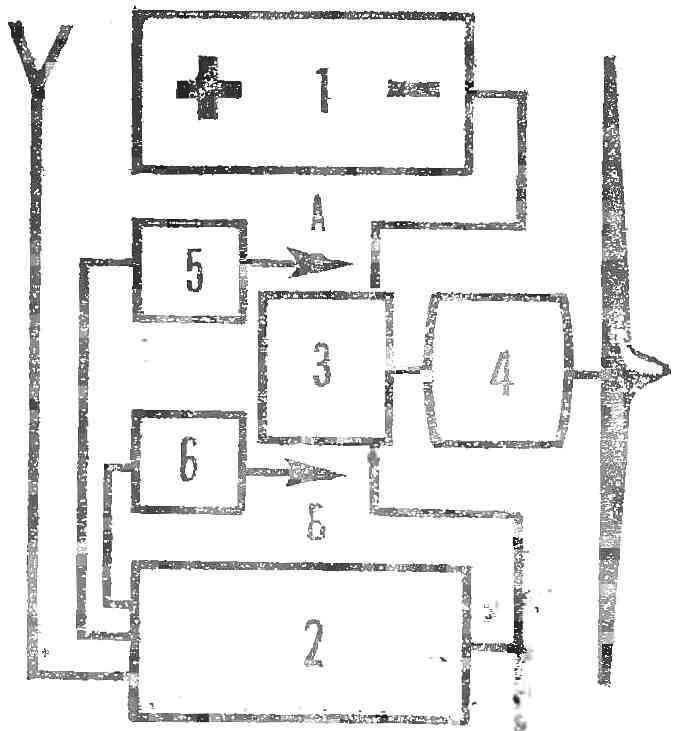 Block diagram:
1 — battery, 2 — receiver, 3 electronic regulator, 4 — engine, 5, 6 — servos.
A — rudder, B — wheel depth.
The power source that is sort of the fuel tank of our plane — silver-zinc rechargeable battery with a capacity of 4.5 A/h. Its mass is 1.7 kg. total weight of electrical equipment — 2.7 kg.
DESIGN "ELEKTROLETA-2". The fuselage of the machine includes a nose nacelle, wing, twin tail boom with a two-keel vertical tail and stabilizer.
The nacelle is made of dense foam, reinforced with pine stringers. The surface of nacelle are covered with thick paper.