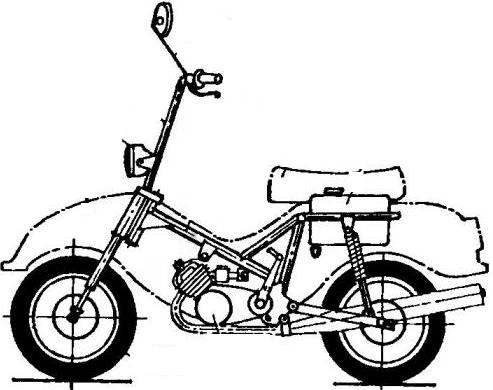 Less and less will see on our roads a nimble scooter. This is not surprising: the main producers and their fates were abroad — in Latvia and Ukraine. So what else from this series is now sold in specialized stores, is cars. Accordingly, the price… To all that volatile MOTOmed gives the consumer a more convenient, more modern cars of the same class — scooters. Miniature scooters with 50-CC engine with automatic transmission and starter, can reach speed up to 80 km/h, providing comfort, who never dreamed of the owner of "Riga" or "Carpathian".
But why spend money on trendy scooters, if it is possible to convert an old moped in a more modern car of a class "city-bike"? Machine, with the design which we want you to meet, is compact, reliability and increased comfort, justifying its belonging to the family urban mini-mokikov.
It should be noted that city-bike was created on the basis of mokiki "Karpaty" (in principle, come to any other or moped mokik engine sh-58, sh-62 or /-50). In particular, it was used front fork with steering column, rear pendulum suspension with shock absorbers, seat, engine /-50 and all sorts of things like lights, control handles and tail light. Wheel city-bike — mini-mokik Riga production.
City-bike was designed using flat models. To do this on cardboard in a convenient scale of 1:2 was drawn silhouettes of all the finished components and assemblies — the engine, front and rear forks, shock absorber, headlamp, etc. of Course, it took also articulated silhouette of the driver.