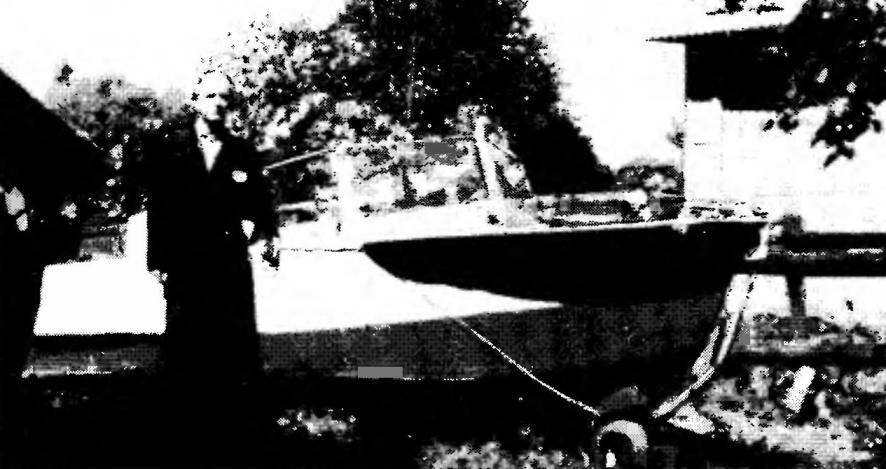 Tourist boat-amphibian "AMFA" was built by Vitaly G. Lebedev 35 years ago. Over many years of operation it is, of course, has undergone several upgrades, but inherent in it original constructive ideas are outdated. AMFA is still pleasing to his Creator and his family, demonstrating on the water and on land of excellent quality. In the late 50-ies, when life after the war became easier and the children have grown up, I wanted to show them new places. We lived almost on the Bank of the canal Moscow — Volga, and water transport, as you know, the cheapest. So was born my idea to build a boat.
Set a goal to make it travel, amphibious type of simplified construction, without complex assemblies and components of the lifting system of the wheels, with no extra holes in the housing. For two years I his dream realized.
The hull of the vessel (Fig.1) with a low deadrise riveted duralumin (D16) sheets with thickness 1.5 mm and 30×30 mm area of the Bottom inside coated with epoxy resin with fiberglass and implemented a sagittal cross redan (31). It is made according to the recommendations of the magazine "Boats and yachts" when the air intakes (25) located on the deck on both sides, both in peredannoe space air is supplied. Thanks to this device, and transom plates (27) the average speed increased by 5 km/h, the course of the boats became softer, as the blows on the bottom on a big wave is considerably weakened.
To protect passengers from spray and rain the cabin of the boat equipped with a glass (11) and roof (32), which is removed, dismantled and placed at the back of the front seat.
Front compartment (forepeak) with only Luke (39) of size 450×350 mm in the septum (38), completely sealed. In one of our hikes this design prevented big trouble: returning camp in the night, at a speed of about 50 km/h struck an unlit buoy and was holed in the forepeak, it was filled with water, but the boat with the trim on the nose remained afloat and we with difficulty, but came to its Bay.