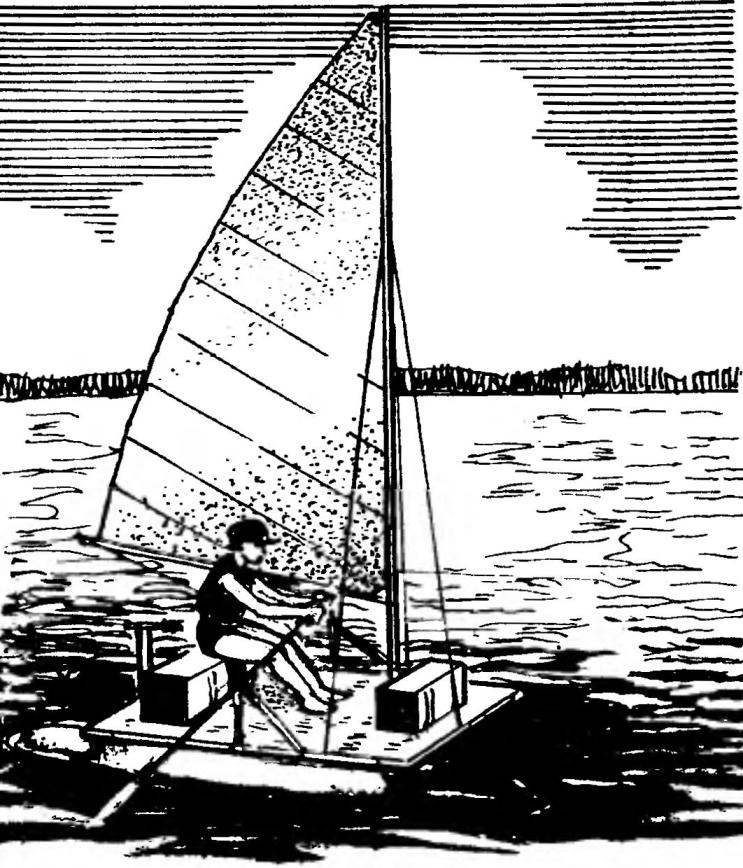 In no time the rivers and oserv clean ice, thousands and thousands of followers boating begin to prepare for the new season. Dostum out of the closets and garvia their "sklodowski" and "naduvnushki" out of winter shelters yachts and boats. Those who lives near water or has in his possession a vehicle, unknown problems burdening the lives of "horseless" lover of water travel. How many will take? Only "sladushka" or "nadobnost". And that is not one, since even a tightly Packed boats requires a separate carrier. And another tent, food…
How to be the person who wants to be alone with nature? But not on a kayak or raft, say, on a sailing catamaran? Look for the helper to get to the water? But then how to get back again to look for an assistant?
Many of these issues will disappear if you use the experience of Muscovite D. A. VARLAMOV. He proposed the original design of sailing cat Marana "the Frog Princess" which has two very important advantages. First, it is made mostly from pine wood material in Russia is quite common. This means that "Princess" can be played in almost every corner of our vast strvny. It would wish. Second, catamaran designed so that to disassemble, transport and assemble it quite on forces to one person. Palubu "Princess" is quite spacious: it sits a crew of four "sailors" — the whole family of the designer.
At the request of the publisher Dmitry Ananiyovich told about their catamaran.
The best memories of my childhood and adolescence are associated with quiet rivers near Nizhny Novgorod, with the majestic lakes of the southern Urals and, of course, with a boat.
In Moscow, looking at the hordes of "roaring" cars, I decided that in urban environments there was a way out, because there are many rivers and reservoirs. But to prefer a kayak? Sitting in her uncomfortable seat for camping gear a little, and swim only in calm water, at the steep wave on the water will not work. "Nadobnost"? It is possible to swim and the ocean. Possible, but very slow. The mast with sail, and additional parts, the wheel speed will add, but the capacity is significantly reduced. Boat of duralumin sheets, rubberized cloth United? Serious: due to its size even in the subway will not be allowed. "Horseshoe" type "Vulture"? I do not argue — someone like that. Get on the car, drag a heavy motor and canisters, to get. I speed, and the crackle of a motor interfere to communicate with nature.