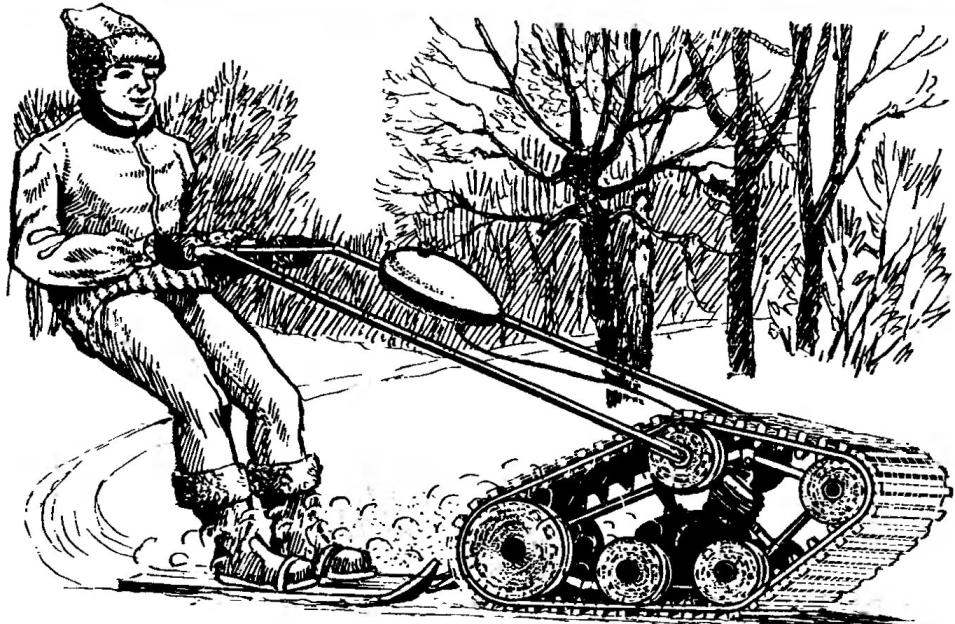 Many of you probably heard about the interesting winter sport — skijoring in which competing skiers towed by a motorcycle. In the Nordic countries is cultivated in this sport — towage of the skier by a horse. The vehicle, which we would like to introduce you to, will allow you to fully experience the charm of a high-speed slide on the slopes without resorting to using horses and not burdening a fellow motorcyclist (who wants to travel in the winter on an open two-wheeled car!).
We are talking about a simple crawler notebookservice called "Seal" on the basis of the engine moped /-50, which will rush you through a snowy plain with a speed of 30 km/h.
As can be seen from the drawings, it is arranged a snap. On the flat frame, welded from steel tubes of square section, mounted two-stroke engine (these were installed on the moped "Riga", "Karpaty" and other) and five bearings, which can spin five of tubular shafts attached to them rollers. Pair rear (large) rollers — leading, for their drive uses a roller chain connecting the small sprocket on the engine and a large sprocket mounted on the driveshaft of notebookservice. To the upper shaft, on which is mounted a pair of tension rollers, is pivotally attached to the drawbar with the control levers of a motorcycle type. Besides them, the drawbar is mo-poor fuel tank.