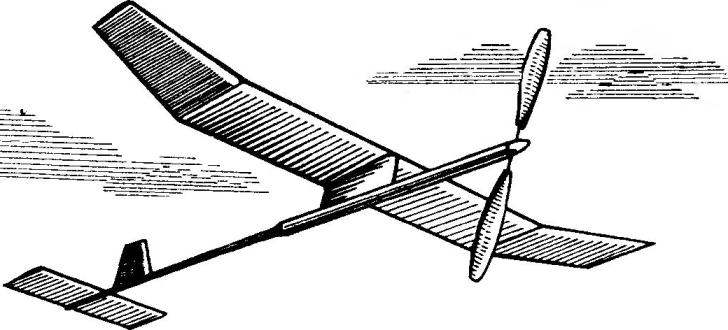 In today's post — the story of rezinomotornaya models of a new class F1G, technical requirements which can be reduced to two basic: the minimum weight of the aircraft without rubber motor 70 g and the maximum weight of the lubricated rubber motor 10 G. Models that meet these requirements, successfully designs and builds in aeromodelling circle of Club of young motorists profkoma OAO GAZ seventh-grader Kirill SHAGIN, who in July 1997 was the first champion of Russia in this class of models.
It should be noted that the model, which will be discussed, are quite suitable for competitions of any rank up to the Championships of Russia. It is, however, somewhat difficult to manufacture, therefore we recommend it for folks working in circles is not the first year.
Now about the design of the model. The pylon is shaped in the matrix of two layers of Kevlar with a thickness of 0.15 mm. Weight of the finished part is only 5 g. There is a release button of the timer, which at the time was described in the journal "modelist-Konstruktor" (No. 12 of 1991).