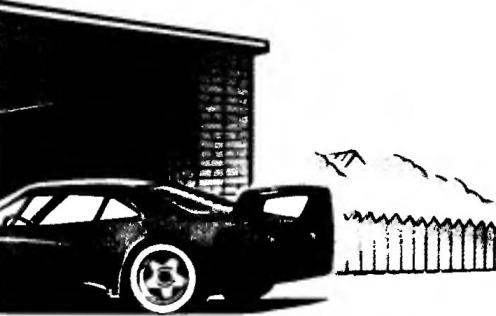 Motorists are well aware how much trouble delivering the usual garage double gates. Particular difficulties arise in the winter when you have almost every day to clean the snow in front of the garage, otherwise, to open or close the gate leaf is almost impossible. Meanwhile, there are many designs, devoid of these shortcomings. Among them are shifted to the side, climb up, folded like an accordion. Meet flexible doors, which are wound on the drum located at the top of the box. However, they are not very reliable, because they have open joints or through cracks.
Offer readers the option of gates, single leaf which rises up and fit under the ceiling. Unlike listed this design does not have these drawbacks: there is no open joint, through cracks, and also has reliable porch around the inner perimeter of the frame of the doorway.
The sash opens easily, lifting a counterweight hanging on the rope on the inner wall of the garage. The correct load allows to do it without much effort.