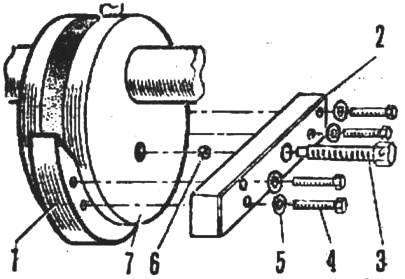 As you know, in a two-stroke motorcycle engines bearing-connecting rod is one of the most loaded nodes. At the same time, its technical condition depend on time and the quality of the engine. To determine the wear and furthermore make the necessary repairs without dismantling the crankshaft is almost impossible.
But in the preparation of the motorcycle or the little micro-car (map) to work in difficult conditions (e.g. competition) to disassemble the crankshaft quite often. The design of the crankshaft and effort necessary for disassembling, complicate this operation, not only at home but also in the workshops syut, sections karting, MotorWeek. The currently used method is extrusion of a finger of the lower connecting rod in the grip is far from perfect and can lead to the deterioration of this scarce items.
A simple device for disassembly of the crankshaft, the readers, developed in a circle autocostruzione the Tula Palace of pioneers. It allows you to disassemble the crankshaft of motorcycle engines with the diameter of the necks of 130-135 mm, and 29 mm, which corresponds to the engines-175 Kovrov plant and all motorcycle Minsk motor plant, that is the most common in our country.