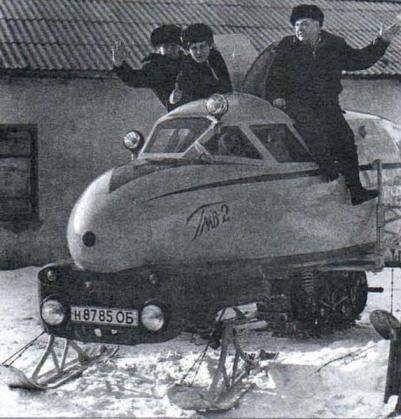 The construction of any improvised apparatus – be it a car, a snowmobile or even a plane always starts with a dream. Dreams of a person capable and motivated. Despite popular opinion that handmade are built from lack of money, the real motive is creative grain and desire of expression. In addition, active people are annoyed by the fact that in our country carelessly throw away and destroy still usable machines and equipment. Why not give them a second life?
So it was this time. The idea of a large snowmobile GMV-2 came to a head in 1970 Hundino Michael – 39-year-old Orenburg, who was then working at Kumertau plant engineering head of the Central measuring laboratory. The name of this design stands for the initials of the surname and names: and his son Vsevolod. But why is index "2"? Because at that moment Mikhail Filippovich already had experience building a similar machine, which he considered a test model on the way to the point their offspring.
The first snowmobile was built in 1968 – 1969 and consists of a small two-seater car with four leading ski and one caterpillar on the back in the middle. Overall dimensions of the sample, let's call it GMI-1, was 5x2x1,7 (length, width, height) meters. The power unit was used from the ZAZ-966. Him the torque transmitted through the drive gear on the sprocket attached to the flanges of the axle shafts shortened rear axle, and with them, through the chain – drive sprocket original crawler unit.
Steering is used on its motorized, SZA. The body was made from aluminium and the design was similar to a small truck. Despite the apparent naivety of GMV-1, it was based on the basic technical ideas that are promoted in the second model, such as: basic structure -4 skis and caterpillar Central rear longitudinal position of the motor; a shortened automotive rear axle with two-way chain transmission to drive the tracks, the ski design.