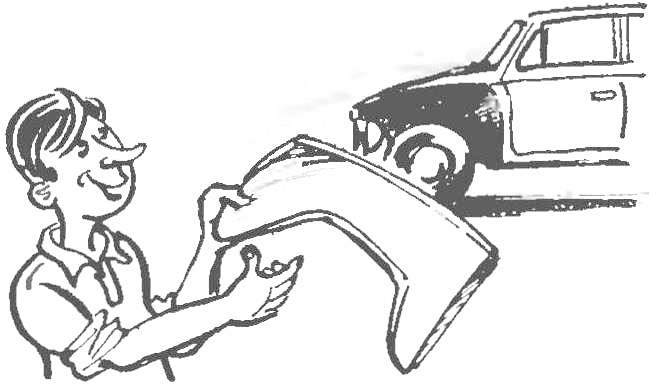 It is known that the car repair the most common and time-consuming are body work. This files most often have purely mednitskii techniques, aligning mutilated steel shell with mallets, rubber or polyurethane hammer and finishing operations carrying out with soldering tin or lead. I can say that I have long abandoned this technology in favor of proven on dozens of dents and holes technology using epoxy resin, filler and fiberglass.
First of all, the wing (as well as any other element of the shell of the machine) raduetsa and while oats do not have to bring its outer surface to the ideal state. Importantly, there was no metal protruding beyond the surface that needs to happen as a result of the repair. On the contrary — in many cases, the surface is better deliberately to understate in order to it is possible was to cast epoxy-glass cloth patch tangible thickness.
If the wing has not only dented, but torn or rusted through places, then it does not matter. It is only necessary to cut the corroded and carefully clean the rusted areas. In this case I recommend using rust Converter and steel brush.
I have not once had to hear from the drivers talk about the fact that under the "epoxy" metal active rust. Indeed, many have observed this effect, but the blame does not "epoxy", and the ignorance of the technology of work with this material.