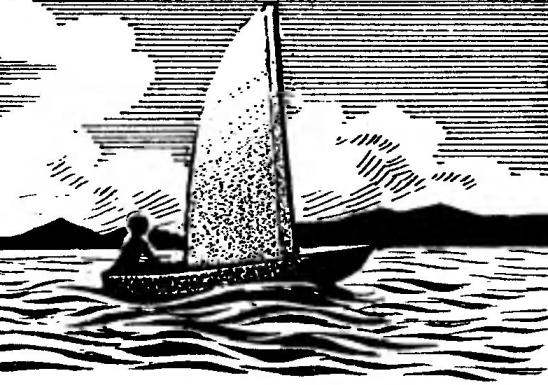 The mast — Foundation of rig of the vessel, its main node. The role mast multi-function, from its devices and locations on the vessel dependent area, the configuration and aerodynamics of the sails, the ability to control their thrust, the location of the centerboard and much more. So the choice of the type and design of the mast determines the construction features of the vessel, and the level of effectiveness of its sails.
This choice is complicated when you create a small portable vessel, when it is necessary to "reconcile" the contradictory requirements such as durability and reliability of parts with their minimal weight and compactness of packaging of the dismantled vessel. Especially in the design of the mast. The main tasks that decide the following: select the type of masts and materials for its production, the choice of variant structural embodiment (including the method of attachment of the grotto) and finally, selection of design steps.
SECRET ONE: CHOOSING THE TYPE OF MAST
Less than the "whole" of the vessel strength of hull of small sailing ship makes to increase the strength of the mast. A task to reduce its weight to a minimum reduces the range of suitable materials. So, a wooden mast is too heavy, warp or rot from moisture, difficult to manufacture, and the quality of the wood for them is not easy to get. The same, except for the "rabies", can be said about a homemade fiberglass masts. Therefore, the most suitable material of steel thin-walled dural tube. Especially after the development of lovers small sails two operations: Assembly of SMD likasa and turning the mast to the farm. The latter significantly improves the ratio of " strength/weight ".
On the ship the mast or put a side and front extensions — guys and the forestay (Fig. 1A) or lateral braces (Fig. 16), either freely (Fig.1B) and is attached at two points. The location of the lower point (steps) do not depend on the type of mast, top — depends: for free is partners — hole in the cross beam; for raskreplennye — mounting point of the braces, or guys with a forestay that is higher partners. Guys significantly reduce the load on the mast and the hull (but complicating design). The angle between each guy and the vertical shall be not less than 11°.