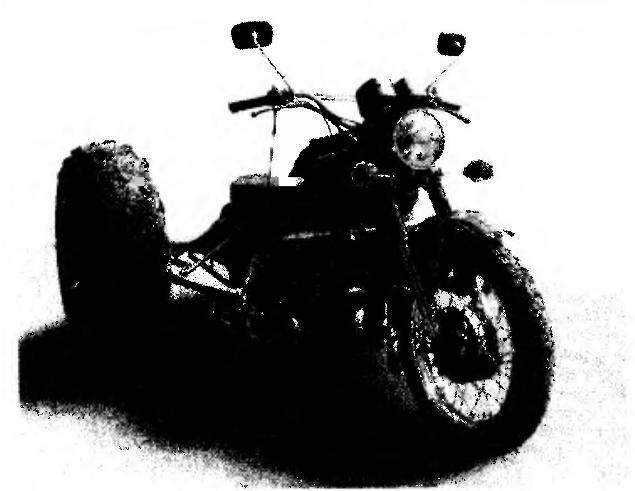 A prototype of the proposed tricycle car was made by me on the basis of the motorcycle "IZH" chamber with two leading wheels and a steering ski. It seemed that the desired result is achieved: the machine ran well on the snowy road. True ski on Packed snow bad coped with its task. Spring revealed other shortcomings of this design. Riding on the roads in the thawed disabled even ski in stainless steel. Instead, I put the pneumatic chamber from 12.00—18," but now more heavily affected by the lack of differential lock — a snowmobile was very difficult to manage.
Then I installed the rear axle gear from the old truck GAZ-51. The car was maneuverable, but not left other problems and the main one — chamber Pneumatics, barely enough for a year. Long puzzled over what would replace them, and once I was pointed in the technology of mechanical cutting of rubber, which was very helpful. I decided to make tires for the suspension, cut the tread from the tires of trucks, and at the same time to dramatically improve the entire structure.
Only manufacturer of rear axle and wheels took me almost all winter. So if someone decides to follow my example, let be patient. But as a result he will get a machine that will last him for years. With these wheels dramatically increases the speed because there is practically no vibration, and throughput is greatly improved due to the presence of the cleats.
As I understand it, among the lovers of design who saw my Rover, aroused interest not so much he himself — its design is not so complicated as the original wheels with tires. So here is a fairly detailed description of their manufacture.
For tires I opted for the tire size 12.00—18″ such are the wheels of the GAZ-66 and ZIL-157. For Snegurochka-Yes, acceptable tires and from the wheels of trolleys of tractors K-700 and T-150. They are much wider, but, unfortunately, heavier. Rim diameter tires 18" I chose because that could make a wheel out of my existing parts. If someone has the opportunity to purchase wheels 12.00—16″, I would have considered him lucky.