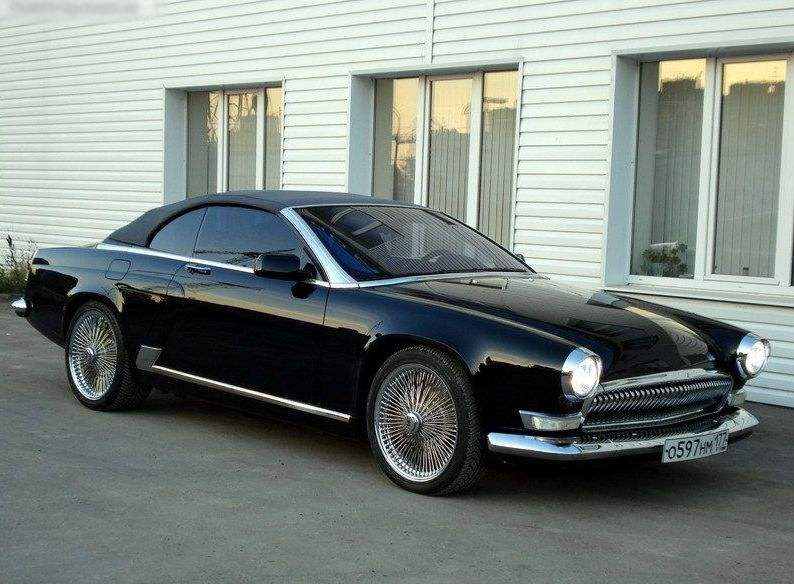 Design domestic car GAZ-21 "Volga" is haunted by the many fans of this car. Some create precise scale models-copies of this iconic sedan. Others meticulously and carefully recreate the published in the edition of luxury vintage cars, which today look better than the ones that came off the Assembly line 50 years ago. Well, while others using a fundamental design decision, so happily found in the design of GAZ-21, creating the "explanation" of this car an exclusive design.
One of these machines was the Volga V-12 Coupe, built in 2000 by the Moscow firm "avtolak". Luxury car equipped with a 380-horsepower V12 engine and equipped with all possible systems of comfort and security.
And here is another car made by the masters of one of the Moscow firms on motives of national "twenty-first" "Volga," the convertible BMW 645 Ci Volga. The machine has become a modern BMW 645 Ci (by the way, its price is 112 thousand euros), which had to cut almost all external body parts. There are only power frame, body, engine, transmission, suspension, doors, soft folding roof and all glass.
The most part of body parts made again, after which the hardware was galvanized and installed on the car. From old "Volga" the convertible only got the grille and trunk lid…
However, the wizards managed to make the look of the car a recognizable brand that speaks to their high design skills — new front and rear fenders, hood and many other elements of the body produce a full impression "volgovskoe".
Lighting in appearance indistinguishable from "volgovskoe", although the headlights are xenon and the sidelights and taillights instead of incandescent lamps equipped with LEDs. Mechanical, hydraulic, electrical and electronic stuffing of the car — BMW 645 Ci. Accordingly, the technical characteristics of the car, like the BMW.
BMW 645 Ci Volga: length 4820 mm, width 1855 mm, height 1373 mm; engine power 333 HP, working volume 4,398 l; the maximum speed of 250 km/h, acceleration from 0 to 100 km/h is 6.1 s.
Recommend to read
CHRYSLER CROSSFIRE
Create a car "based" machines of past LVT becomes a good tone at the acquisition of the production programmes of almost every well-known car company. On the roads of the world has...
FERRARI 612 SCAGLIETTI
The debut of this most powerful and most expensive car that produces the famous Italian firm, was held in January 2004 at the prestigious Detroit motor show. The machine will replace...