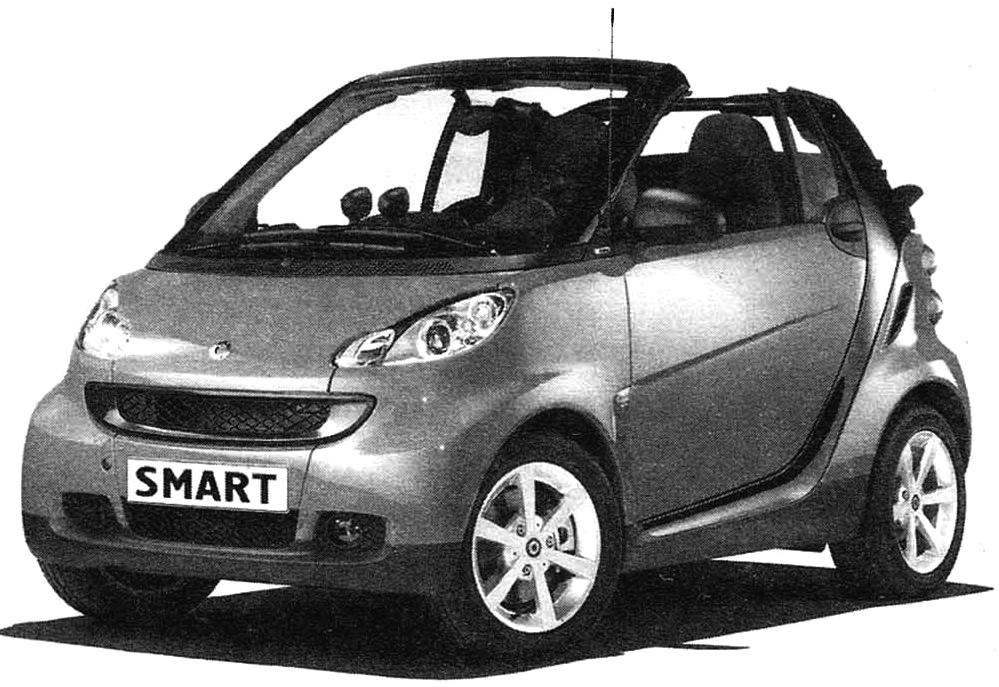 In 1989, the company The Swatch Group Ltd. (Switzerland) engaged in the design compact city car of the original design, and in 1993, the company Mercedes-Benz has developed a feasibility study of production of this car. The first Smart prototype was presented to the public in September 1995 at the International motor show in Frankfurt. Production of mini-car and pre-sales in Europe began in July 1998.
Smart is equipped with three-cylinder fuel injected turbocharged engine working volume of 0.6 or 0.7 liters and a power of 45 or 75 HP Motor installed in the rear and drives the rear wheels. Is available modification with a 55-horsepower engine, the maximum speed of this machine is 135 km/h In 1999 in sale Smart equipped with three-cylinder diesel turbo working volume of 0.8 liters and a power of 41 HP, mated to an electric clutch and 6-speed transmission Softouch.
SMART FORTWO: length 2500 mm width, 1515 mm height: 1549 mm wheelbase 1867 mm, engine 3-cylinder, engine power 75 HP, working volume of 0.7 liters, fuel tank capacity 33 litre, max speed 170 km/h fuel consumption on the mixed cycle is 5.3 l per 100 km, transmission — 6-speed automatic, curb weight 730 kg Luggage capacity — 150 l
Recommend to read
TIMER ON CO2…
Without the engine the model doesn't fly. But to rely on the ice today is not necessary: the mass of the motors is just terrible. You can, of course, many years ago, to do "resinator"...
"ACUPUNCTURE" FOR METAL
In the Soviet Union it issued certificate number 365089. Obtained patents in Italy, Sweden and France. License was purchased by the famous firms in the United States, and Japan; they are...