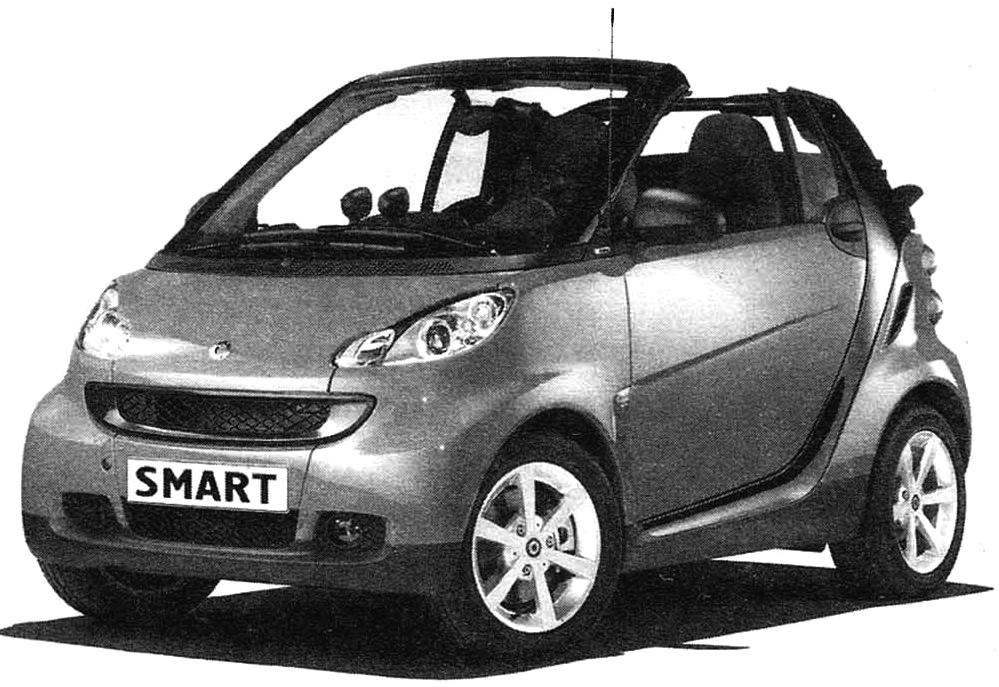 In 1989, the company The Swatch Group Ltd. (Switzerland) engaged in the design compact city car of the original design, and in 1993, the company Mercedes-Benz has developed a feasibility study of production of this car. The first Smart prototype was presented to the public in September 1995 at the International motor show in Frankfurt. Production of mini-car and pre-sales in Europe began in July 1998.
Smart is equipped with three-cylinder fuel injected turbocharged engine working volume of 0.6 or 0.7 liters and a power of 45 or 75 HP Motor installed in the rear and drives the rear wheels. Is available modification with a 55-horsepower engine, the maximum speed of this machine is 135 km/h In 1999 in sale Smart equipped with three-cylinder diesel turbo working volume of 0.8 liters and a power of 41 HP, mated to an electric clutch and 6-speed transmission Softouch.
SMART FORTWO: length 2500 mm width, 1515 mm height: 1549 mm wheelbase 1867 mm, engine 3-cylinder, engine power 75 HP, working volume of 0.7 liters, fuel tank capacity 33 litre, max speed 170 km/h fuel consumption on the mixed cycle is 5.3 l per 100 km, transmission — 6-speed automatic, curb weight 730 kg Luggage capacity — 150 l
Recommend to read
DIESEL BUS ELECTRIC
The development of industry in our country in the mid 30-ies of the last century entailed the growth of cities, and in these conditions all the more urgent became the problem of their...
ISOTTA-FRASCHINI TIPO-8A
World renowned Italian firm Isotta-Fraschini, founded and 1900 H Isotta and the brothers Fraschini, initially engaged in sale of cars. However, after a few years it organized the...