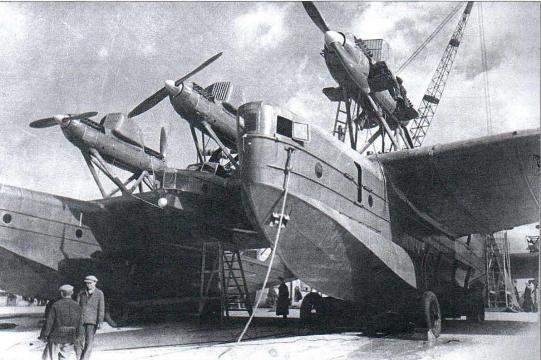 The weakness of the Navy of the USSR in the prewar years, tried to compensate by creating flying cruisers – multi-engined and heavily armed seaplane, able to deal with both surface and underwater ships, ground targets, and engage in mine production. As a result, in July 1931, the air force issued TSAGI reference for the development of seaplane MK-1 (ANT-22) with a lifting capacity of six tons. The plane had to fly at a speed of 300 km/h and have a radius of 1000 km. the Defensive armament was raised from four to five machine guns and two or three guns.
In all publications on this seaplane, it is argued that katamarana scheme chosen for reasons of enhancing its seaworthiness and stability. However, in one of the archival documents showed that the plane was intended for the transportation of small submarines. What kind of boat is unknown, but based on its carrying capacity, the displacement of the submarine could not exceed
13
tons. Recall that the displacement of the smallest of domestic submarines "baby" period of the great Patriotic war was about 150 tons, and the postwar "Triton" – 3,75 tons. In 1936 he tested a special Autonomous underwater vessel "APSS" created under the leadership of V. I. Bekauri, with a displacement of 7,2/8,2 tons, allowing to transport it by plane type MK-1.
Katamarana scheme identified and the choice of war feathers. Six engine M-34R was located in three tandem engine nacelles with pulling and pushing screws on the center section of the wing.
Defensive armament included nasal shielded installation ShKAS machine guns, deck – guns "Oerlikon" and feed – with two YES-2. Provided for suspension of up to 6000 kg of bombs (including caliber 1000 kg) in the cargo compartment of the wing and under the wing or four 1200-kg torpedoes.