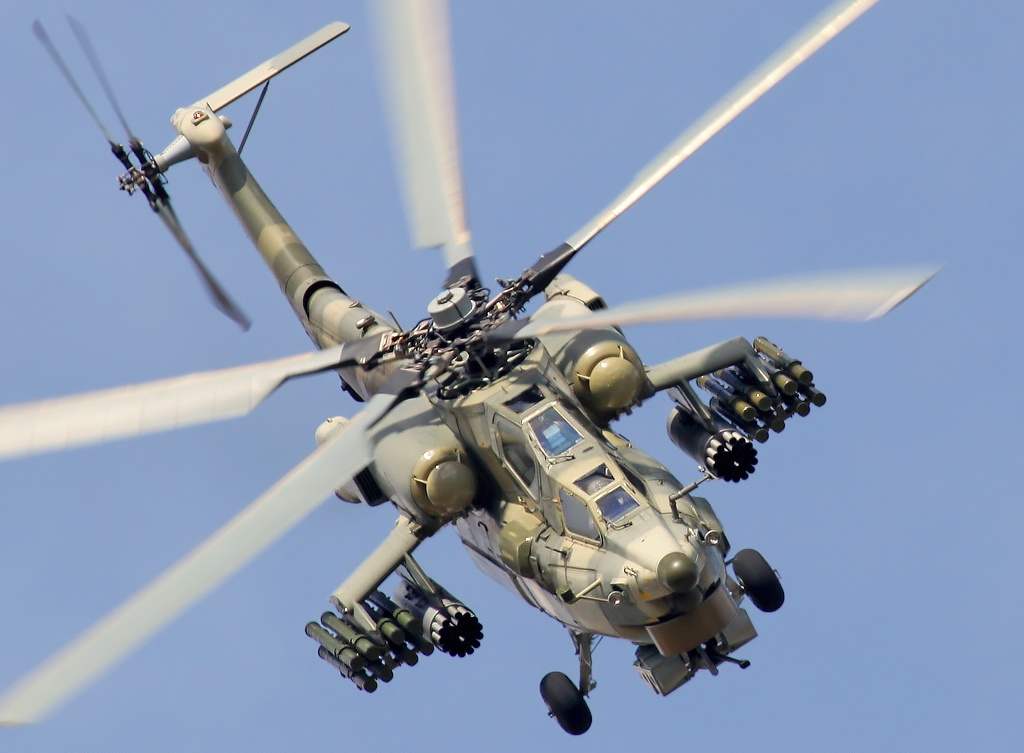 An experimental model of anti-tank combat helicopter Mi-28 first flew on 10 November 1982. Was built four prototype — they completed the full cycle of state tests.
Rotor helicopter is a highly maneuverable aircraft designed for overload from — 0,5 to +3,5. The carrier system is virtually the same as that of the Mi-24, but the design of the blades is fundamentally different — they are made exclusively from composite materials with high residual strength when damage. The main rotor hub is equipped with elastomeric bearings. The tail rotor is X-shaped and comprises two parts connected using elastomeric bearing.
The design of the fuselage is widely used composite materials. Engines placed on the sides of the machine, is mounted between the main gear.
The helicopter has a high survivability. The cabin is protected by armor in combination with ceramics, glazing of flat glass. Recovery system allows the crew to survive the impact of the helicopter on the ground with a vertical speed of 12 m/s.
The main armament of the Mi-28 are modified ATGM "Ataka" and 30 mm movable gun mount.
Anti-tank combat helicopter Mi-28: the diameter of the rotor 17 is 200 mm, the empty weight 7,800 kg; max weight 11 200 kg load capacity 2200 kg; maximum speed of 300 km/h; static ceiling 3600 m; dynamic ceiling of 5,800 ft; range 460 km; engines, two turbine engines TVZ-117 with a capacity of 2270 HP; crew — two people.
Recommend to read
SUD-AVIATION SE.313B ALOUETTE II
Aerospatiale SNI, a leading aerospace firm in France, with four offices, including a helicopter. Company Aerospatiale SNI takes a leading place in Western Europe for the production of...
BK-117
Light multipurpose helicopter BK-117 — the first joint development between the companies of Japan and the Federal Republic of Germany. Since the end of 1981, the helicopter passed the...