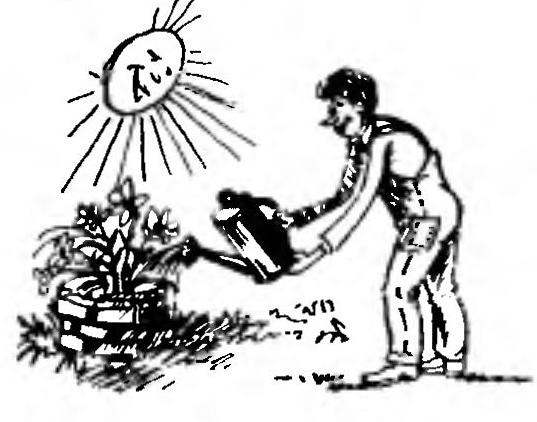 Flower garden in front of the house or plot is usually round, oval or rectangular bed edged diagonally dug brick. It forms a jagged fence, holding an earth mound from fraying. Meanwhile, a little dream up, you can turn an ordinary bed into an original decorative element of the plot, like the examples offered by the Hungarian magazine "Earmaster".
Even the traditional round version of growing plants will be look completely new, if those same bricks to place somewhat unusual (Fig.1). They are stacked horizontally in three rows with spaces between them approximately in a half-brick. This edging flower beds can be performed with the use of cement mortar, and without it.
However, the flower garden can become a kind of architectural structure at the site, it is necessary only to continue upward started the process of laying bricks (Fig.2). In this way formed a beautiful lattice Cabinet can be not only round but also square, triangular, rectangular, elongated, any. Flowers in a "skyscraper" planted in the ground filling not only in the middle part, but in the "Windows", which further enhances the decorative effect.
If you want to use stause-hanging plants, such as nasturtium, morning glories and the like, then the wall cabinets can give without "Windows", solid (Fig.3), and for a more decorative veneered with colored tiles.
Beautiful double pedestal (Fig.4) of elongated lower rectangle and the higher square, part of the masonry which becomes common (which can be seen on explaining the scheme). Additional decoration here is the final top row of masonry: it is formed of vertically set round tiles (or, alternatively, bricks).