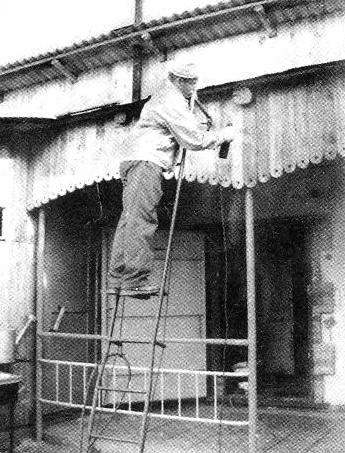 A lot of different equipment and tools required for the country, and especially subsistence farming. Not least among them is the largest ladder that I once needed, and quite long (or in this case, we can say, high) — about two meters. It quickly produced from the existing old water pipes. By design, it was simple: two parallel stands of pipe with a diameter of 28 mm and a few cross-steps between them from a pipe with a diameter of 21 mm, the Gap between the uprights "in the light" — 300 mm, approximately the same distance between the crossbars. The details connected by means of electric welding.
Another time it took a ladder shorter. Cutting in half the previous was sorry, and I'm from the same material welded other similar. Only now the gap between the posts was about 400 mm (he took hand). Between the strut distance remained about the same (and, in my opinion, the 300 mm is the optimal step). However, after the execution of the works the need in the stairs disappeared and they both long to lay idle along the garage wall.
But it so happened that after a while again took the stairs, but now even longer (or higher) than the first. There's thoughtful — not to do the same to the third? And materials (pipes) is already almost gone. Suggests only one way out — to reduce the width of the short steps and weld the ends of the struts both. But then there were doubts — will it have enough racks rigidity to not bend under the weight of my body? Memory some acceptable solutions are not coming, and time to search in the technical literature of proven methods too. Need to think of something myself!