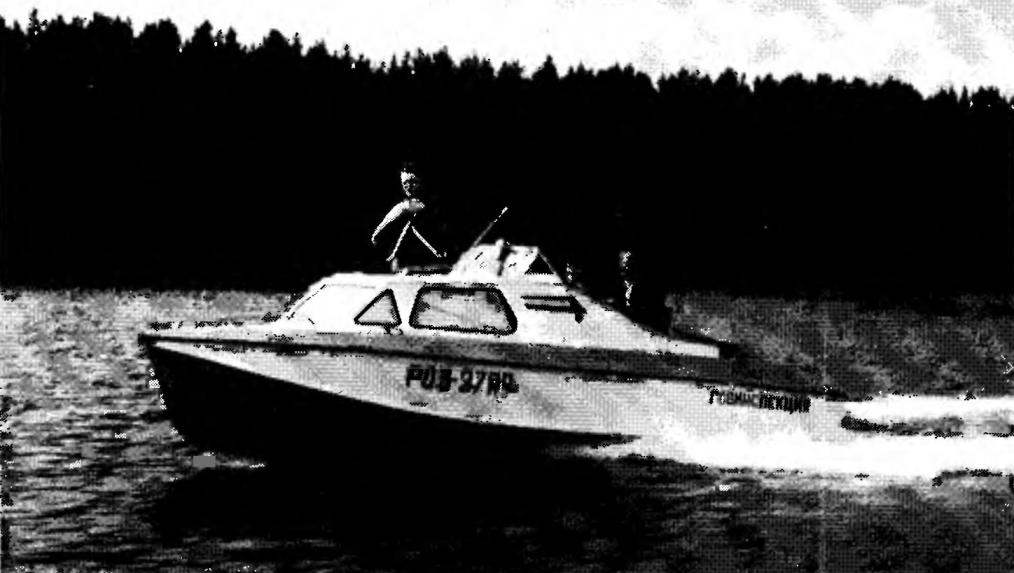 "When you live on the shore of a large reservoir with a picturesque coast, it is a sin to spend vacation in foreign lands. Especially attractive the summer vacation on the water. Of course, it is necessary to have some kind of flotation device. In our family, for example, there is a cabin boat with two powerful motors, which for many years we proceeded Rybinsk reservoir up and down. Do I need to tell you what a pleasure and what impressions we receive from these trips?
Our homemade boat. Designed exclusively for pleasure-tourist voyages on the rivers and in the coastal zones of large lakes and reservoirs.
The payload capacity of a vessel depends on the volume of his body. By the standards of the American Association В1А (similar provisions adopted in the former USSR and the Nordic countries) the capacity is calculated from the keel to the plane of the "static navigation". In the case of our boat this plane is delineated by a conventional water line, which runs from the top of the stem to the top of the bulkhead separating the engine from the niche of the cockpit.
The allowable load Q for the boat was calculated by the formula:
where is the density of water (1kg/dm3), V is the volume of the body (5900 dm3), is the mass of the boat (400 kg).
Thus, according to the rules В1А the maximum load capacity of our boats is 1100 kg.
This figure will become more clear if we Express it in number of passengers on Board. So, if derived from 1,100 kg to subtract the weight of the two outboard motors "Vikhr-M" (96 kg), two fuel tanks (160 kg) and battery (10 kg), the share of passengers and their Luggage will remain 834 kg. That is, boat can take on Board six people (the mass of each is equal to 75 kg) and 384 kg of cargo!