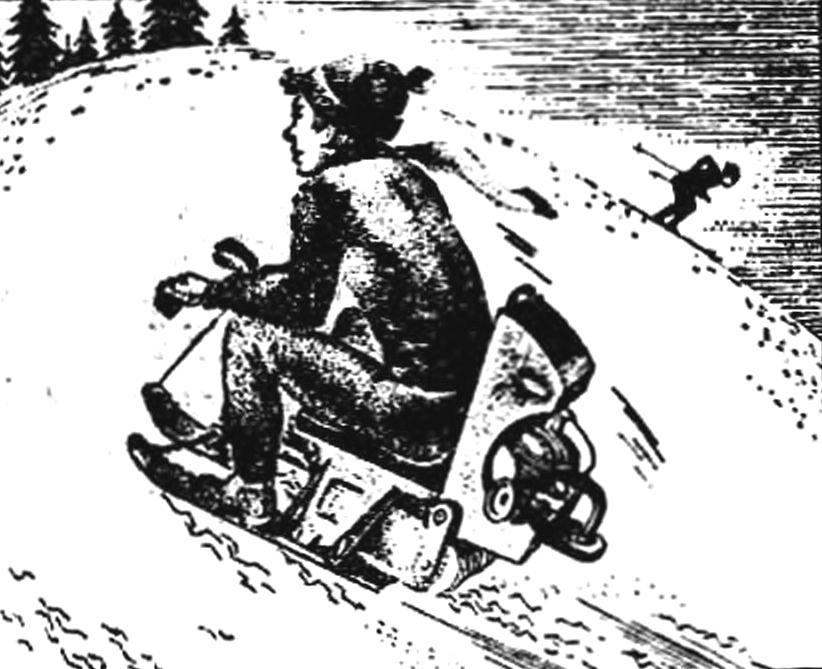 Well known to our guys managed sledge "Chuk and GEK" called snegokat because it is meant for use only on the slopes of the snow hills. Rapidly — only the wind whistles! — rushing snow-cats down on their three skis. Front controlled, allows you to change direction to avoid obstacles. But as soon as the slope of the end — sled, Proskuriv some more inertia, will stop: on level ground they will not leave. Then on the old proverb: love to ride — love and sleigh to haul! The rope and the slide. But what is it? The distance seemed "Chuk and GEK", which, having fallen down with the same speed continues to race on a flat snow field. Here the rider was a teenager deploys a cool scooter, and surprisingly others behind him opened hinged to the frame a motor and caterpillar. This is already a snowmobile. And it was built Moskvich Yu. Tereschenko.
Motonarty with a D-6 engine capable of carrying even the adult at the smooth snow with a speed of about 15 km/h they can easily overcome rises to 30°. There is a possibility of towing a skier behind them.
The snowmobile is equipped with electrophorous, tail lights, serving at the same time turn indicators. The gas tank located behind a semi-back seat, holds a supply of fuel for 4 h engine work.
Structurally, the device consists of a casing of the engine sub frame and crawler console — mover.