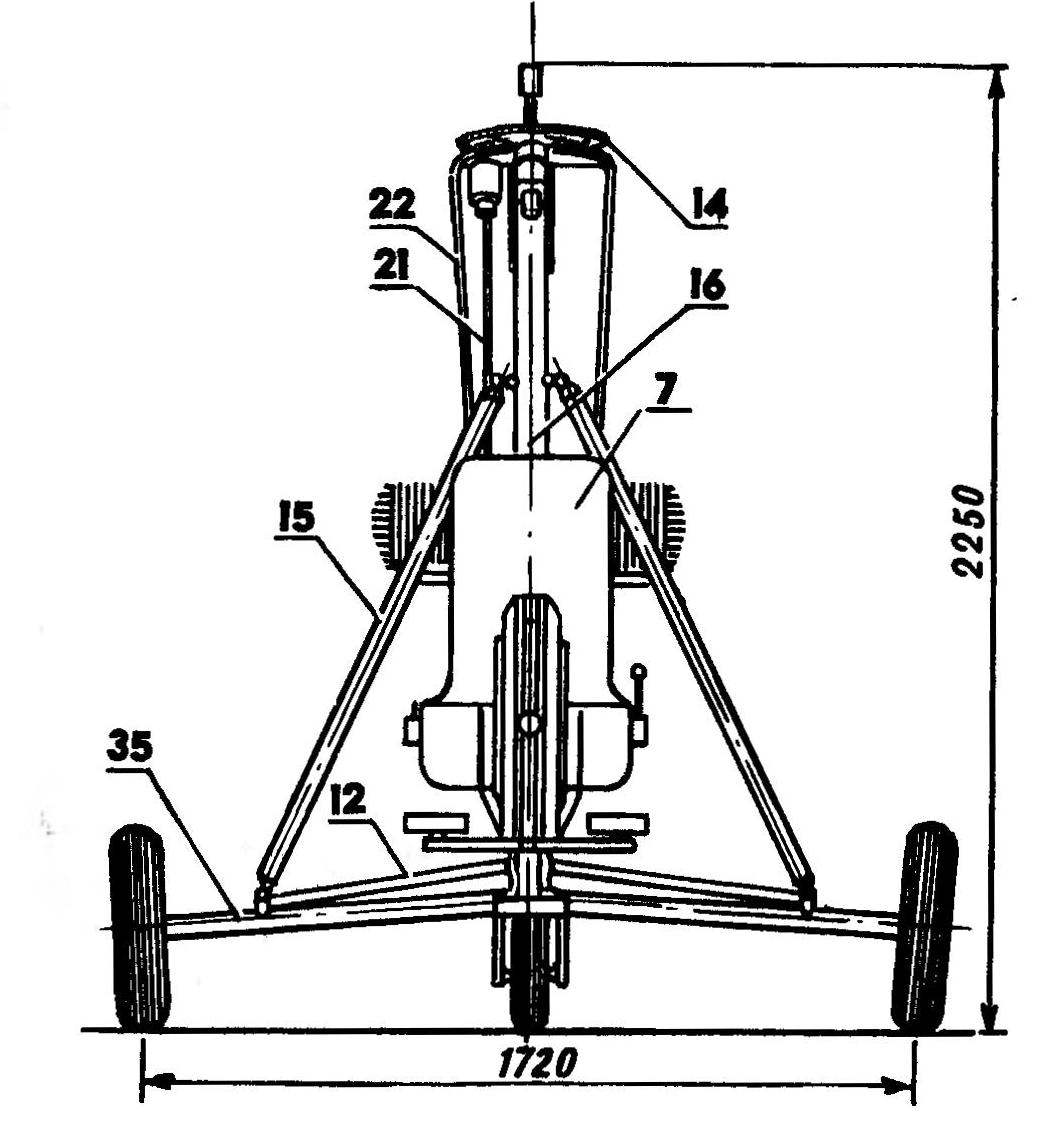 The fuselage truss, tubular, collapsible design. The main element of the fuselage is a frame consisting of horizontal and vertical (pole) pipes ø 75X1, made of steel 30KHGSA. They are mounted towing hitch with lock and receiver air pressure, the dashboard, the pilot seat, secured with seat belt, control unit, tricycle, with a nose steerable wheel chassis mounted on motorhome power unit with a pusher propeller, stabilizer, keel with rudder ball joint to the rotor. Under the keel mounted auxiliary tail wheel with a diameter of 75 mm. together with the Pylon struts d 38X2 length 1260 mm, tubular beams, the main wheels d 42X 2 with a length of 770 mm, made of titanium alloy VT-2, and braces d 25X1 length 730 mm of steel 30KHGSA forms of spatial power frame, the center of which is the pilot. With the horizontal tube of the fuselage and the ball joint of the main rotor pylon connects with titanium rails. In the installation of the scarves in the tubes is established the bougies made of aluminum В95Т1.
Power unit with a pusher propeller. It consists of a two-cylinder boxer two-stroke engine working volume of 700 cm'1 with reduction gear, pusher propeller and electric starter, clutch system pre-spin the rotor, the fuel tank capacity of 8 litres and an electronic ignition system. The power unit is located behind the pylon on the engine frame.
The engine is equipped with a duplicate electronic contactless ignition system and tuned exhaust system.
Pushing the wood screw is driven through a V-belt gear, consisting of master and slave pulleys and 6 belts. The variability of the torque to the gear dampers installed.