The first little micro-car "mouse" I built for my kids. As far as he was able, the readers of "Modeller-designer" can tell, after reading his description and drawings, published in "M-K".
As a result, I accumulated some experience of designing and has already planned not as a child, and "adult" car. Called it "mouse-2". Built a long time, or rather, not so much built, how many were looking for the necessary parts. This, in particular, due to the use of "Mouse-2" mechanical brakes (now I change them for hydraulic). Development drawings and the construction was carried out simultaneously, although the basic parameters of the "Mouse-2" was thought out by me in advance.
Bring him brief technical description. This twin four wheeled vehicle with an engine producing 14 HP (working volume of 346 cm3) located in the back. Equipped with two independent braking systems: a primary (working) foot all-wheel drive and a spare (side) lever actuated on the rear wheels only.
The car is dynamic and stable. The braking distance at a speed of 30 km/h not more than 6.5 m minimum turning radius along the axis of the track the outside wheels — 4.5 m. the Maximum speed of 65 km/h.
Electrical equipment, from motorized wheelchairs FDD, 12-volt, slightly modified. It includes exterior lights and light-signalling devices, horn wiper, instrumentation.
Salon decorated with modern materials, isolated from matousek sound absorbing panel with foam filler. Chairs, driver and passenger anatomic, laminated of fiberglass, lined with foam and covered with leatherette; the machine is equipped with safety belts.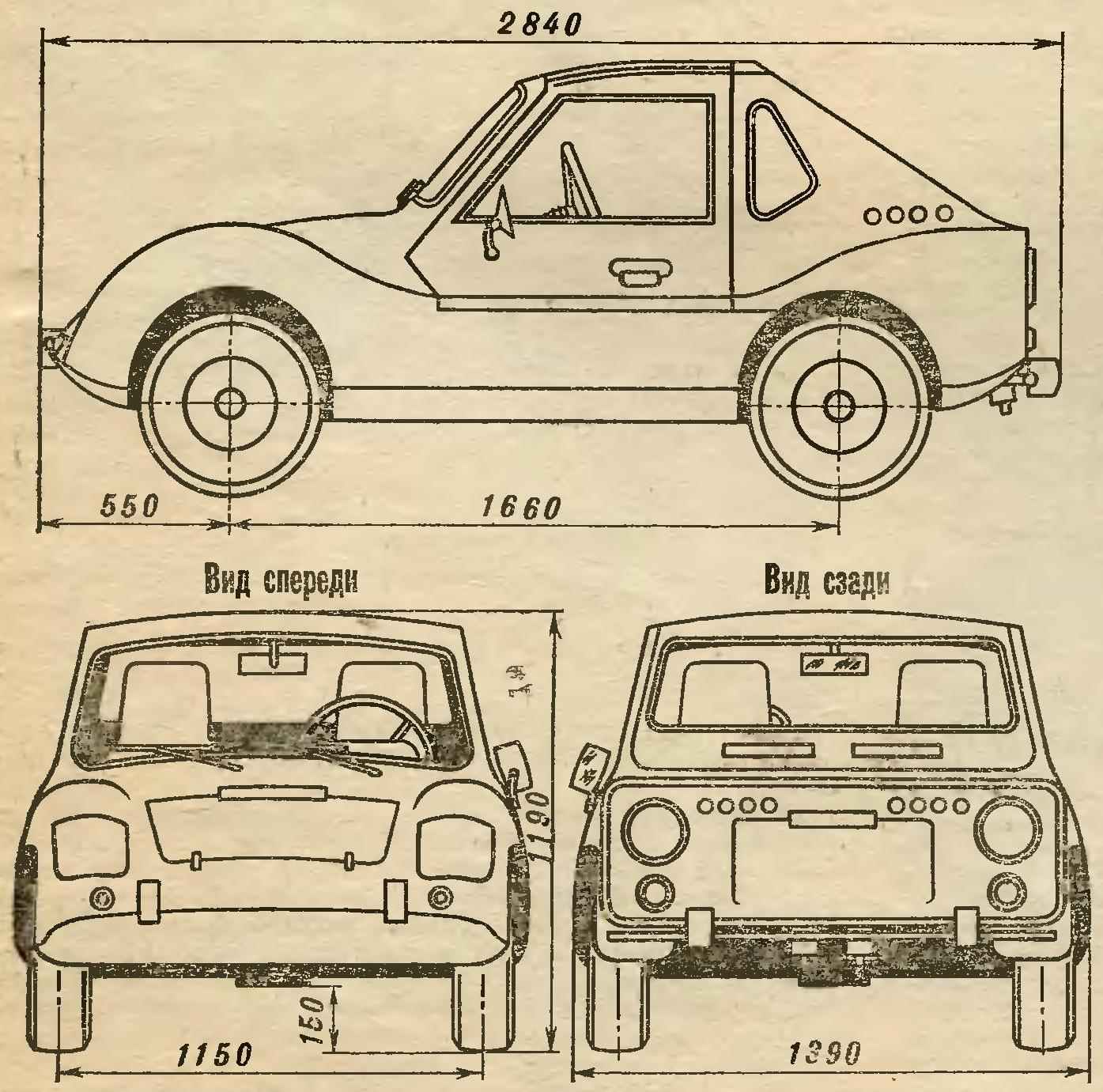 The vehicle is operated from may 1985. The speedometer is many thousands of kilometers of the Sakhalin roads. Serious breakdowns in the way it was. However, it should be noted that, if full engine power is not enough to overcome frequently encountered on our roads are steep and long ascents. And it forces to include the first transfer. Critical of I also to a flip-up doors — not all they are comfortable. Otherwise, the machine is happy.
Now I would like to tell you about the design features "Mouse-2".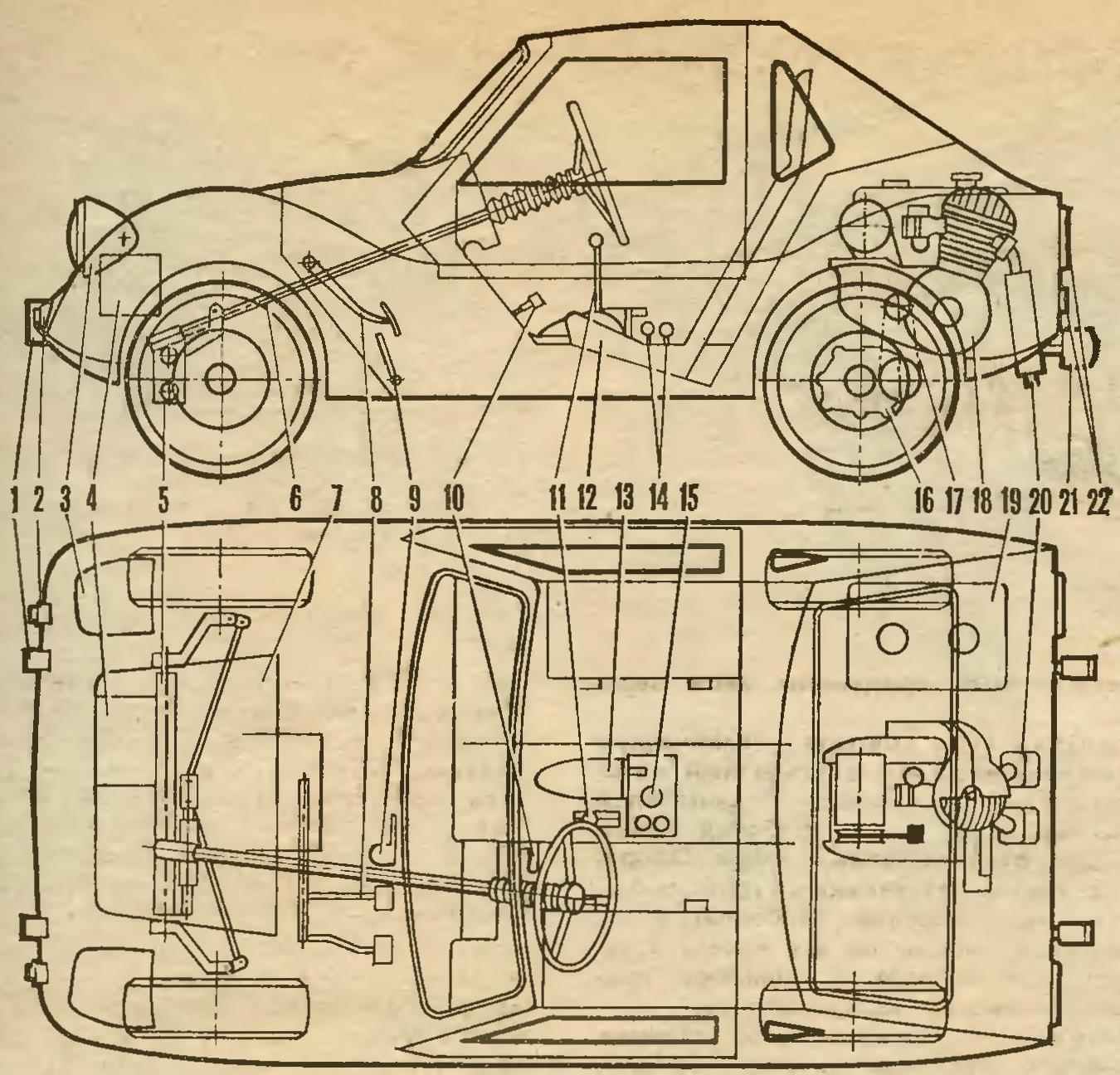 Fig. 2. The layout of the car:
1 — the front buffers,
2 — sidelights — direction indicators,
3 — retractable headlights with covers,
4 — battery,
5 — front axle,
6 — steering shaft,
7 — the Luggage compartment,
8 — brake pedal and clutch
9 — the gas pedal,
10 — grip hand brake
11 — shift lever and the reverse
12 — the driver's seat,
13 — lift headlights,
14 — "coins" of the decompressor and the corrector,
15 — valve fuel cock,
16 — differential with reverse gearbox
17 — drive chain,
18 — engine,
19 — fuel tank,
20 — the silencers,
21 — back buffer,
22 — rear lights.
---
It is assembled mostly from spare parts of "Zaporozhets" and sidecars, SZA and SZD. Body frame, with fiberglass panels on a tubular basis. Rear hood, hinged or removable, which provides easy access to the engine. Body – the most difficult part, Assembly and equipment spent three-quarters of the time.
First I made a mock body in natural size. I used pure gypsum. To save put on the grid first concrete, and when he grappled caused the top layer of plaster thickness of 15-20 cm Completely dry surface layout, polished and painted by nitroenamel. The treatment was conducted very carefully, so that the flaws are not passed on matrix.