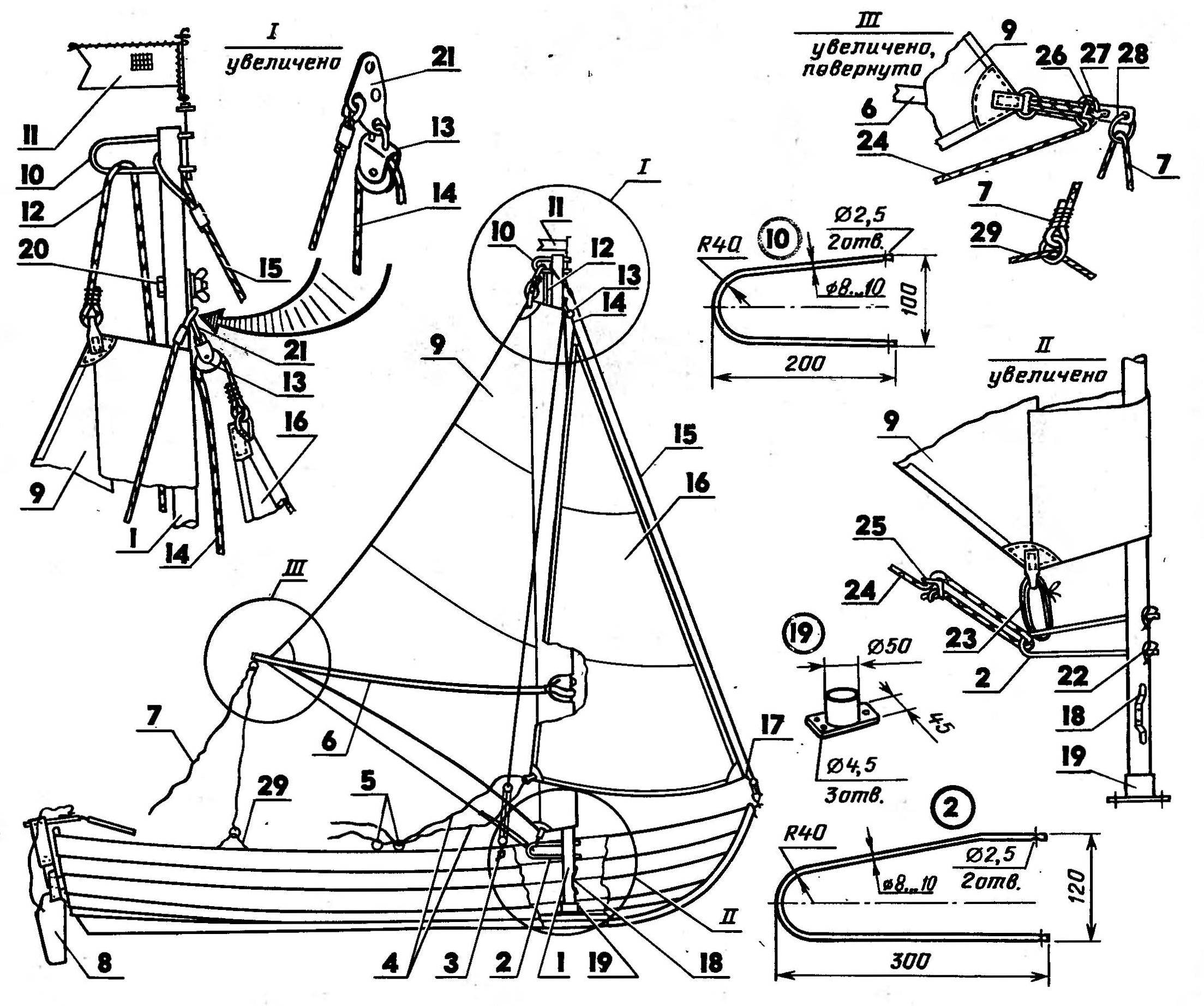 To acquire a sailboat—even the most simple!—one desire is not enough. You have to go to the cost, sometimes completely devastating for the family budget. And the time to construct such a vessel takes a lot. However, there is a way—readily available and inexpensive. It is to install on a rented pleasure craft rowing boat (for example, type "Mullet" or "Trout") a simple improvised sailing arms. Do not, of course, be expected from such a "yacht" high speed and Lavrovich qualities. This is possible only if a radical change in the structure of the boat and improved its facilities, including a retractable centerboard or verzemi.
Now, however, we will focus on sailing the weapons easier. The main part and 4.5-metre mast, which is mounted on a special support (steps) at a distance of 1200-1400 mm from the nose of the boat and raskreplenija guys and stays.
Sail the boat consists of a mainsail and headsail. The grotto — like "swift", it is fixed with mast pocket, raised the mainsail-halyard thrown through the bracket at the top of the mast, and stretched boom. Operated by the sail boom-sheet.
The kit includes one sail — staysail. Typical, the forestay it is not attached — it greatly accelerates its setting and cleaning. Rises the sail-staysail-halyard, passed through a block at the top of the mast and is controlled by the jib sheets, missing on both sides of the mast through the piles. After raising the sails up all the loose ends are fixed to the ducks.
Tie the knot sailboat — plug-in. It is hung on the bracket mounted on the transom of the boat.
The mast of the boat-a three-assembled from a thin-walled duralumin tubes. In the upper and lower fixed knee brace: on top of the t – axis of the vane, made from Bicycle spokes, bottom — pins-pins.