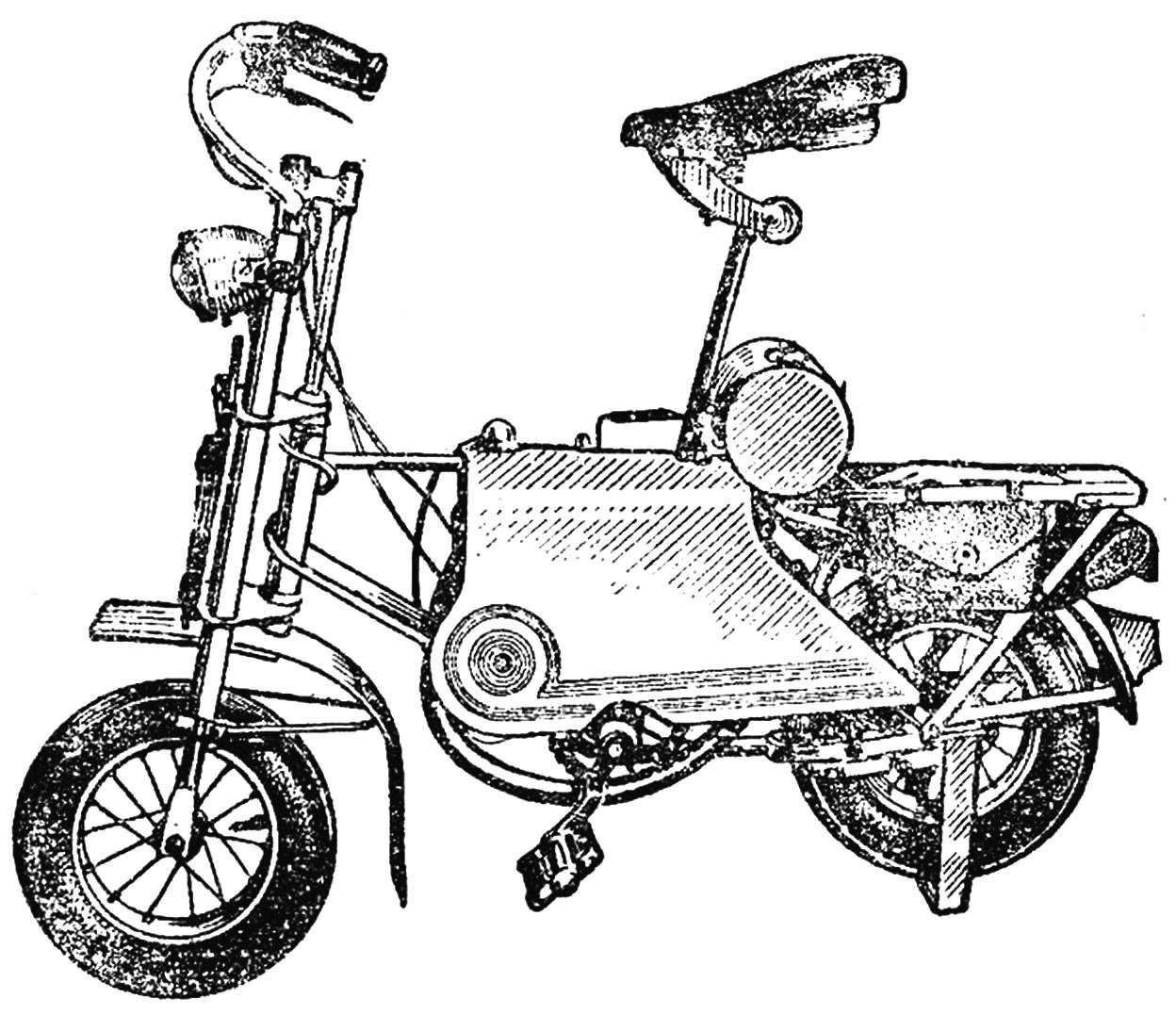 I have designed a small moped in contrast to the series sits in the passenger Elevator. This is probably one of its main advantages because the two-wheeled kid's (educational, by the way, the same speed as the "Riga-7") can be "parked" on the balcony of a city apartment.
Frame for mopeds are taken from a children's bike brand "Renak" with the standard drive sprocket, saddle, pedals and crankset. Fork rear wheel is reinforced with a brace and additional strength to the frame attached to the horizontal pipe between the saddle and the handlebars.
Fork front wheel — telescopic, spring damping (spring with racks borrowed from the motorbike). Steering wheel — standard bike-racing; control cables, throttle and clutch are omitted inside the wheel well.
Engine brand D-6. Drive chain closed light hood that attaches to the frame with one screw. The configuration of the hood allows access to spark plug, to the button of the carb and Vozduhoflotsky.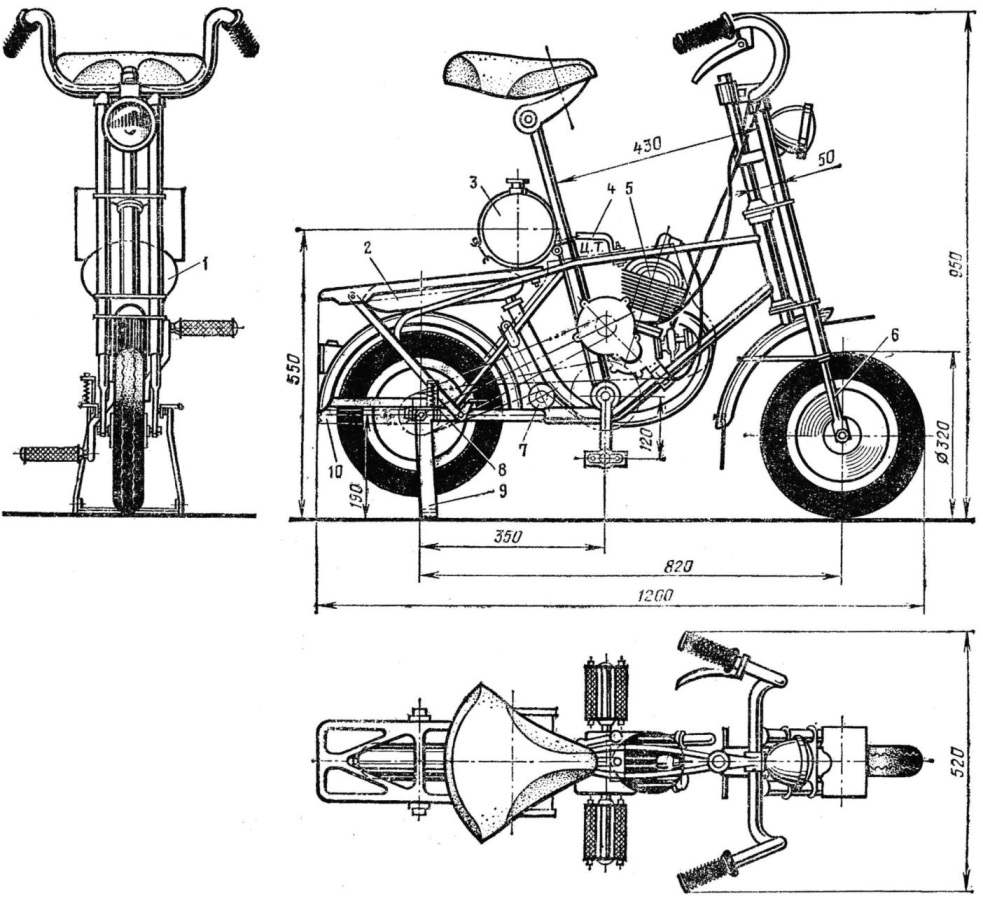 The layout of a moped
1

— bonnet, 2

—. silencer, 3

— tank, 4

— handle, 5

— D-6 engine, 6

— telescopic shock absorber, 7

— idler pulley, 8

— lock rack, 9

— stand, 10

latch racks.
The rim of wheels from scooter. The axis of the rear wheel bike, with the brake bushing. It is mounted on the splines of the sprocket with 18 teeth. The number of spokes for strength had to double up (32 instead of 16), using cropped moped spokes-Ø 3 mm. the same set of spokes on the front wheel instead of the regular.
A few words about other parts of the mini-moped. Saddle from "Riga-7" provides a comfortable fit. The cylindrical fuel tank with a capacity of 2.5 litres homemade. It is fixed, one folding with the bolt. On the brace frame reinforced roller for tensioning the chain pedal drive. Under the saddle (the center of gravity of the scooter) has a carrying handle.
Tires from scooter. In order to strengthen them in the main tire is glued the same, but turned inside out. To fasten this "sandwich" can be glue 88Н or composition of 100 parts of tiokol and 30 parts of hardener. Svietlana tire with a camera is put on the rim is inflated by the pump and dried for two days.
M. VISHINSKY, Moscow
Recommend to read
FROM "ZAPOROZHETS" — "BUGGY-350"
For many years since the entry into force of "Technical conditions" to build a home-made micro cars and sidecars the creators of these machines in their structures often used the main...
RESERVES SINK
Modern kitchen furniture manufactured by the industry, designed for apartments with improved design where the kitchen area from 8 to 12 m2. In a small apartment with kitchen 5 m2 such...